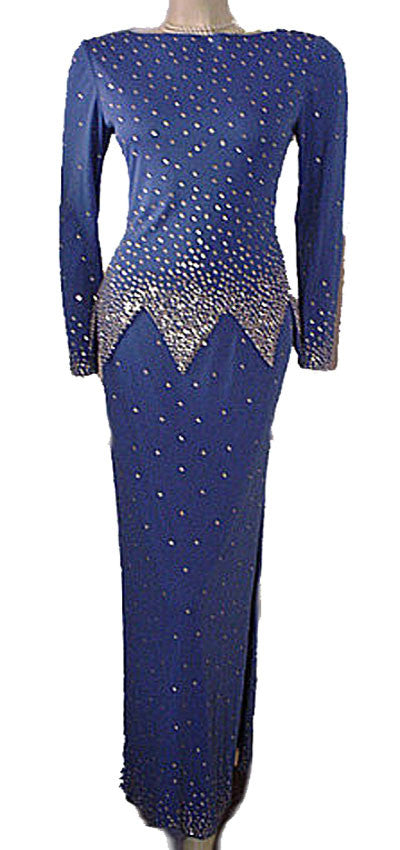 *GORGEOUS '70s / 80s ROSE TAFT COUTURE FASHIONS RHINESTONE ENCRUSTED EVENING GOWN IN "NIGHTS IN PARIS BLUE"
Original Price:  $5,999.99  Sale Price $4,459.99
This evening gown is payable by certified cashiers check only.  Please contact me if you wish to purchase it.
An absolutely stunning vintage evening gown encrusted with prong-set sparkling rhinestones by Rose Taft for Couture Fashions.  The evening gown reminds me of twinkling stars in the night sky and it is just as stunning.
The following is from the Rose Taft website and my thanks to them:

"Rose Taft Couture has been experiencing over four decades of continuous growth and expansion. Now in its 45th year, Rose Taft is the true industry leader among special occasion manufacturers. Patternmakers, beaders, cutters, sewers and the design team are all conveniently located under one roof.
Quality is of the utmost importance to all at Rose Taft. All garments are hand draped, hand beaded and double lined. They have not and will not piece out any phase of their manufacturing operation. In addition, custom fabrics and laces are designed and warehoused in the Taft factory.
Rose Taft stands alone as a true award winning style innovator. It has become a household name due to its timeless elegance that has been carried on from generation to generation."
Rose Taft couture dresses retail between $1500 - $5000 and some more.  This beautiful evening gown is in a fabulous shade called Nights in Paris Blue and it is an evening gown that I doubt you will see again.

I wore this evening gown on a cruise for one of the formal nights and it was absolutely breathtaking with the brilliance of the vintage rhinestones.  Vintage rhinestones have so much more "fire" to them than rhinestones nowadays that are normally dull & without the sparkle of the vintage ones.  Also no one had an evening gown that was as beautiful as this one from Rose Taft.

Rose Taft Couture gowns are custom made to order.  All the sparkling rhinestones are hand set according to their website.  The evening gown is very heavy from the weight of the encrusted twinkling rhinestones.  So glamorous and beautiful with incredible sparkle under evening lights.
The rhinestones are sprinkled over the entire dress with a heavier concentration of rhinestones at the waist & hip area, ends of the sleeves and the hemline.  The bodice has an attached overblouse but the dress is one piece.  Deep "V"in back with a zipper.  Fully & beautifully lined with no raw seams inside.  A long kickpleat on the side for a glimpse of a leg when walking.  Tiny thread loops on the inside shoulders to hold the evening gown in place on a hanger which I love.
You will the center of attention in this dazzling vintage evening gown at you next formal affair, an entertainer, a pageant contestant, a cruise or mother of the bride

By: Rose Taft for Couture Fashions
Size: No tag so by the measurements -I wear a size 10 & it fit me but go by the measurements for a good fit
Bust: 36 - 40 stretched
Waist: 15-3/4 - 36 stretched
Hips: Measured from the inside lining as that will be the tightest area on the dress.  39 - 42 stretched tight
Length: 58 & since it has been taken up a bit close to the waist underneath the top, it could be let down a bit more if necessary
Fabric: No tag but a slinky fluid expensive poly jersey knit
Care: No tag but dry clean
Condition: Very good - the former owner has taken it up about a hemline underneath the points in front around the waist area where no one can see it & it is done in a running stitch so it could easily be pulled out if you wanted it a few inches longer
---

Care Instructions
We examine each item carefully and note any imperfections, but unless an item is said to be new, please don't expect it to be perfect & even some new items have small imperfections. I will always state in the description if there are any imperfections & I never do repairs but leave them to others who are better able to do them than me as that is not my expertise.
Please remember that unless specified all items have been used and will show varying signs of use or wear. We always list the obvious imperfections to the best of our abilities. However, some slight imperfections that will not show or affect wearing or using the item may slip by or not be considered worth mentioning.

Vintage nightgowns & peignoirs may be delicate so I do not wash them in the machine. I wash them in lukewarm water with Woolite or some other mild soap, then rinse & hang dripping wet in the shower.

Since these are vintage items, a bit of extra care needs to be taken with them so they remain beautiful & I definitely would never put a vintage nightgown or a peignoir in the dryer as it would ruin it.

The items are sold as we find them. We do not dry clean, launder, alter or repair vintage clothing and they should be cleaned or washed upon arrival. Please make your selection carefully & check the measurements as there is no return on clothing or other items.


---
All photos & text are copyrighted with the library of congress & the sole property of Midnight Glamour & cannot be duplicated or copied in any manner & will be prosecuted if used.