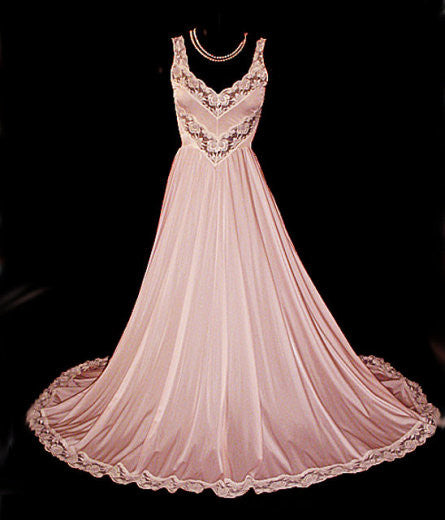 *RARE VINTAGE OLGA "DESIGNER COLLECTION" SPANDEX LACE NIGHTGOWN WITH FABULOUS RARE SCALLOPED LACE HEM IN SOUTHERN BEAUTY
A very rare gorgeous vintage nightgown from
Olga's 
"Designer Collection" in a pink shade called Southern Beauty.   A spectacular rare style with the gold and white metallic embroidered label in this vintage Olga nightgown.
The gold embroidered label as well as the gold and white embroidered  "Designer Collection" label are the most unique and  rarest of the Olga nightgowns and are rarely seen.  Fortunately, I have four of the designer nightgowns, two in pink, one in Pale Lavender and one in white called Wedding Day with the gold embroidered label.

It is extremely rare to find a gown from the "Designer Collection" but I was fortunate to find four of them over the years and two in pink which is a real plus since it seems to be everyone's' favorite color. 
This gown is in a lovely shade of pink called Southern Beauty.  There are beautiful strips of sheer white lace inserted into a spandex bodice.  The lace strips come to a point on the bodice and  waist.  The very feminine lace straps travel down onto the bodice and  join the top strip of chevron lace.  Springy spandex bodice and  back for a fabulous fit that will pull up and out as Olga gowns are known to do.

Tons and tons of slinky nylon to wrap around your legs on a cool evening with the a/c running.  150" or 12-1/2 feet of luscious silky creamy nylon swirling around your legs when you walk.  Rare matching scalloped white lace around the hemline which looks so delicate and feminine with all the lace frosting the hemline/

Just a beautiful vintage rare spandex lace Olga nightgown from Olga's  "Designer Collection" in Southern Beauty.

By: Olga's "Designer Collection" with the gold metallic woven label
Style: 92086
Size: Small and should fit a medium as well but go by the measurements for a good fit
Bust: 32 - 42 stretched tight
Waist: 20 - 37 stretched tight
Length: 56-1/3
Fabric: Nylon
Care: Washable
Condition: Very good - the former owner reinforced the stitching at the top of the straps - one was done in a darker pink thread but could be taken out & redone with a paler pink if you wanted - I would leave it alone as no one would notice it.
_________________________________________________________________
All photos and text are copyrighted with the Library of Congress and the sole property of Midnight Glamour and cannot be duplicated or copied in any manner and you will be prosecuted if used.
_________________________________________________________________

 
Care Instructions
We examine each item carefully and note any imperfections, but unless an item is said to be new, please don't expect it to be perfect & even some new items have small imperfections. I will always state in the description if there are any imperfections & I never do repairs but leave them to others who are better able to do them than me as that is not my expertise.
Please remember that unless specified all items have been used and will show varying signs of use or wear. We always list the obvious imperfections to the best of our abilities. However, some slight imperfections that will not show or affect wearing or using the item may slip by or not be considered worth mentioning.

Vintage nightgowns & peignoirs may be delicate so I do not wash them in the machine. I wash them in lukewarm water with Woolite or some other mild soap, then rinse & hang dripping wet in the shower.

Since these are vintage items, a bit of extra care needs to be taken with them so they remain beautiful & I definitely would never put a vintage nightgown or a peignoir in the dryer as it would ruin it.

The items are sold as we find them. We do not dry clean, launder, alter or repair vintage clothing and they should be cleaned or washed upon arrival. Please make your selection carefully & check the measurements as there is no return on clothing or other items.


---