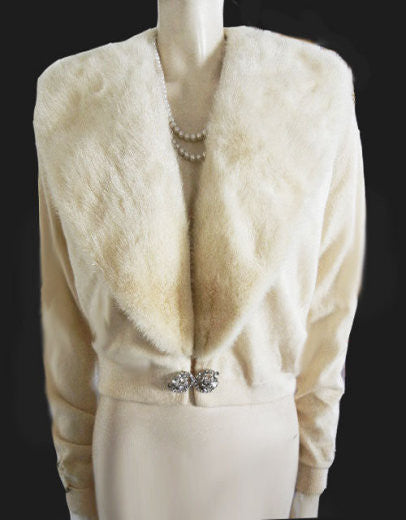 *GORGEOUS VINTAGE PRINGLE OF SCOTLAND VORY CASHMERE EVENING SWEATER WITH AN EXTRA LARGE MINK COLLAR BY PRINGLE WITH A HUGE SPARKLING RHINESTONE CLASP
A gorgeous vintage cashmere sweater with a extra large mink collar & a sparkling rhinestone clasp by Pringle of Scotland.

The sweater is in a creamy ivory shade with some lemon. It was difficult to get the exact shade in the photos and it is somewhat a deeper shade than shown.  The fur collar is extra wide.  I have never seen a collar this large on an evening sweater and I have owned and sold a lot of these.  The sweater is in an creamy ivory shade and is full fashioned which is the best kind of sweater that one can buy.

The sweater has a rhinestone clasp composed of various shapes of rhinestones on the metal clasp which closes with a metal hook that slips through a slot.  The clasp is large at 2-½" across and 1-1/3" high.  There is nothing like the sparkle from vintage rhinestones.  The rhinestones made today do not have the brilliance or sparkle that the vintage rhinestones do and are not beautiful like the vintage ones.

The lining is absolutely exquisite with sheer ivory crepe over a layer of white lace for a stunning look.  What manufacturer would go to all that trouble and expense to do that with a sweater nowadays? Evening sweaters, if you can find one now, are not made this beautiful with the quality of these old vintage sweaters and that is why they are so expensive as well as being extremely hard to find.

The mink collar is attached with snaps so it is easy to remove when you want to send the sweater to the cleaners.  The collar is lined underneath with creamy ivory satin with a design of little basket with flowers.  So much detail went into these this vintage sweater that it's amazing.

The beautiful mink fox collar could also be used on another suit or dress if you wanted since it is detachable.  The sweater has long sleeves with cuffs which are ruched at the ends and decorated with two teardrop prong-set rhinestones.  The rhinestones are not as brilliant as they used to be and could be replaced but I would not do that as that is part of the charm of vintage clothing.

The sweater is in beautiful condition and looks as though it was rarely worn.  A very elegant and exquisite vintage sweater adorned with an extra wide mink collar and rhinestone clasp for over your cocktail dress or evening gowns.  Perfect for Christmas parties, New Year's Eve, Valentine's Day or a cruise.

By: "Pringle of Scotland - Made in Scotland - By appointment to her Majesty the Queen Manufacturers of Knitted Garments"
Size: No tag but I wear size 10 & it fit me & will fit smaller sizes as well but not larger than a size 10 but go by the measurements for a good fit
Bust: 44 - 50 & bigger if you left it open
Sleeve from neck: 31 & sleeves can be pushed up if too long or roll up the cuff
Shoulder seam to seam in back: 17
Length: From top of sweater in back not counting the fox collar 21
Fabric: 100% cashmere, crepe lining & lace lining
Care: Dry clean the sweater & do not wash it - the fur collar can come off when the sweater needs cleaning
Condition: very good - small dark spot on the mink collar in back.  I would probably take a lightly wet cloth and dab at that area and then fluff up the fur. (shown in a photo)

_______________________________________________________
All photos and text are copyrighted with the Library of Congress and the sole property of Midnight Glamour and cannot be duplicated or copied in any manner and you will be prosecuted if used.
 _______________________________________________________________

We examine each item carefully and note any imperfections, but unless an item is said to be new, please don't expect it to be perfect & even some new items have small imperfections. I will always state in the description if there are any imperfections & I never do repairs but leave them to others who are better able to do them than me as that is not my expertise.
Please remember that unless specified all items have been used and will show varying signs of use or wear. We always list the obvious imperfections to the best of our abilities. However, some slight imperfections that will not show or affect wearing or using the item may slip by or not be considered worth mentioning.
Vintage nightgowns & peignoirs may be delicate so I do not wash them in the machine. I wash them in lukewarm water with Woolite or some other mild soap, then rinse & hang dripping wet in the shower.

Since these are vintage items, a bit of extra care needs to be taken with them so they remain beautiful & I definitely would never put a vintage nightgown or a peignoir in the dryer as it would ruin it.

The items are sold as we find them. We do not dry clean, launder, alter or repair vintage clothing and they should be cleaned or washed upon arrival. Please make your selection carefully & check the measurements. We hope you enjoy what you purchased but we know sometimes things do not fit quite as you would like or the color is wrong.  In that case, we do allow one exchange or a store credit on any item that you want. There are about 2,500 items in the store and more are being added all the time so you have a large selection to choose from.
You must email before returning an item so I can give you the information that you need to exchange the item. For items that received Free Shipping, actual shipping costs will be deducted from your refund.