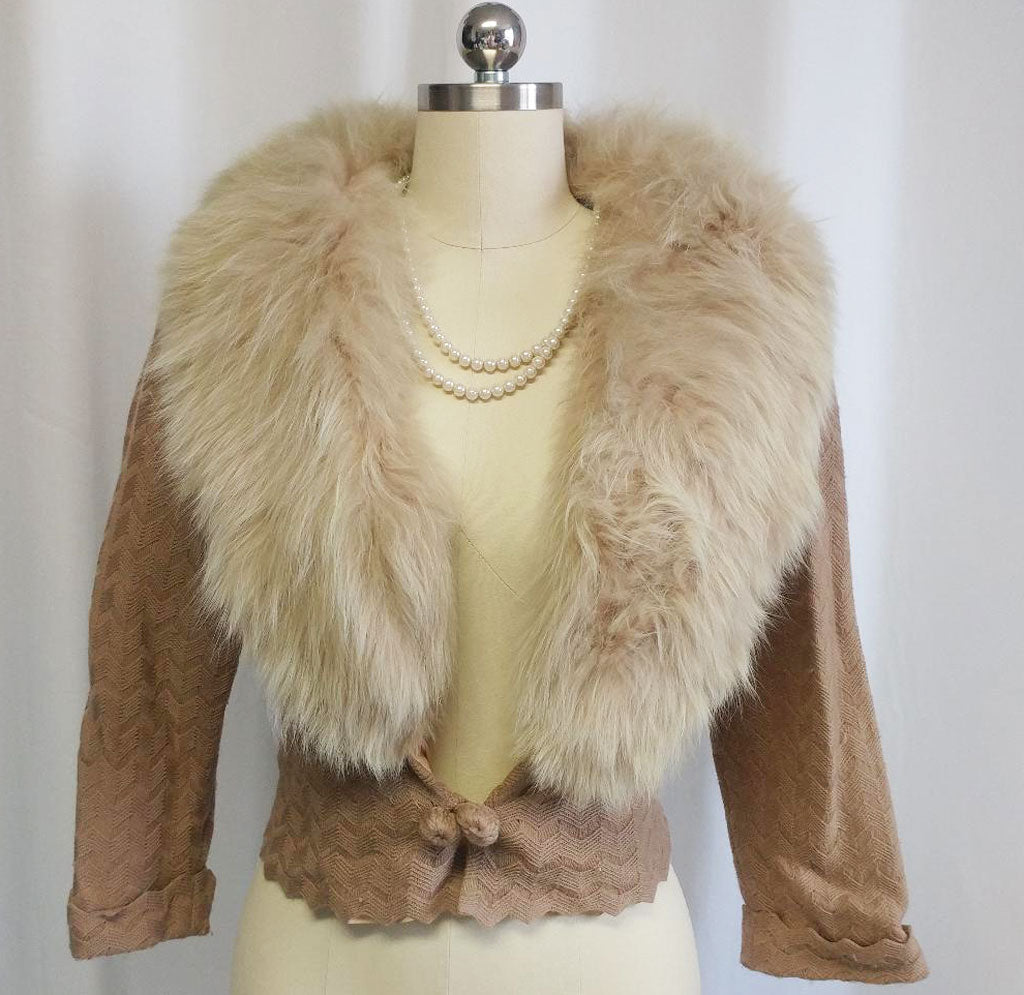 *GORGEOUS NEW OLD STOCK VINTAGE EVENING SWEATER WITH AN EXTRA LARGE FLUFFY FOX COLLAR - JUST BEAUTIFUL
A gorgeous vintage evening sweater sweater with a extra large fox collar.  I am not a fur expert but I believe it is real fox.  I had a fox evening sweater decades ago and it feels very much like the same feel that my fur had.  Very soft with very long fur.
The sweater has never been worn and there was a string with a manufacturer's tag pinned to the inside of the sweater when the sweater was packed for my trip from Arizona to Georgia a few years ago.  But somehow in the move and unpacking, the tag became separated from the sweater and all that is left is the string and pin.
The fur collar is extra wide and lush. The sweater is in a cocoa shade which is neutral so it can be worn with all clothes.  The design of the knit is very unique and lovely.  I love the cute little yarn "buttons" and loops.  There is a champagne taffeta lining in the sweater.

The fur collar is attached with long running stitches so it is easy to remove when you want to send the sweater to the cleaners.   The collar is lined underneath with the same champagne colored taffeta as the inside of the sweater.  A lot of detailing went into this vintage sweater.

The sweater is lovely and will look beautiful over a cocktail dress or evening gowns or palazzo party pants for your next event.  Also, perfect for Christmas parties, New Year's Eve, Valentine's Day or a cruise

By: Tag is missing
Size: 12 but go by the measurements for a good fit
Approximate Measurements – This means the measurements of the item listed – not of your own figure.  You must be a few inches smaller than the measurements shown.
Bust: 41 & bigger if you left it open
Sleeve from neck:  24 - 25 
Shoulder seam to seam in back: 16-1/3
Length: 19 - 20 from top of sweater in back not including the fox collar 
Fabric: No tag but the lining is taffeta
Care: Dry clean the sweater & do not wash it - the fur collar can come off when the sweater needs cleaning
Condition: New Old Stock - a minute pinhead hole on the back of one sleeve near a seam - a couple of stitches will pull it together and it will be unnoticeable.
 _______________________________________________________________
All photos and text are copyrighted with the Library of Congress and the sole property of Midnight Glamour and cannot be duplicated or copied in any manner and you will be prosecuted if used.
________________________________________________________________
Care Instructions
We examine each item carefully and note any imperfections, but unless an item is said to be new, please don't expect it to be perfect & even some new items have small imperfections. I will always state in the description if there are any imperfections & I never do repairs but leave them to others who are better able to do them than me as that is not my expertise.
Please remember that unless specified all items have been used and will show varying signs of use or wear. We always list the obvious imperfections to the best of our abilities. However, some slight imperfections that will not show or affect wearing or using the item may slip by or not be considered worth mentioning.

Vintage nightgowns & peignoirs may be delicate so I do not wash them in the machine. I wash them in lukewarm water with Woolite or some other mild soap, then rinse & hang dripping wet in the shower.

Since these are vintage items, a bit of extra care needs to be taken with them so they remain beautiful & I definitely would never put a vintage nightgown or a peignoir in the dryer as it would ruin it.

The items are sold as we find them. We do not dry clean, launder, alter or repair vintage clothing and they should be cleaned or washed upon arrival. Please make your selection carefully & check the measurements as there is no return on clothing or other items.