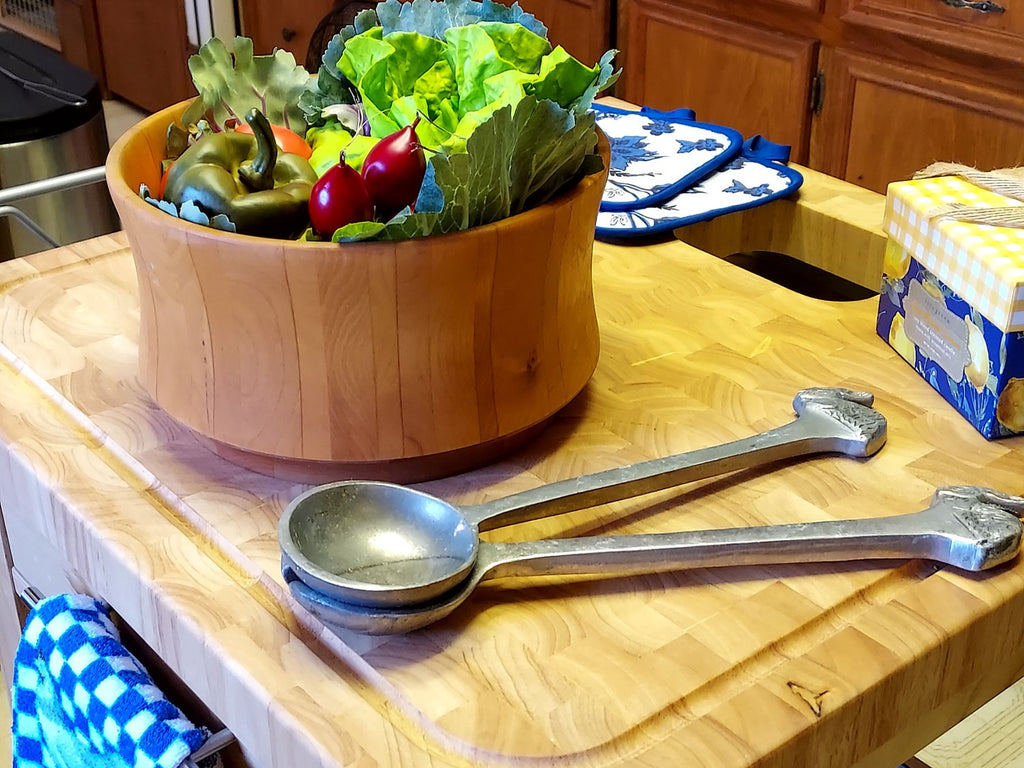 VINTAGE WILLIAMS SONOMA RETIRED CLASSIC YELLOW BIRCH WOOD SALAD BOWL JOHN MCLEOD DESIGN MADE IN VERMONT, USA
I have had this beautiful Classic Yellow Birch wood deep salad bowl Crafted Exclusively for Williams - Sonoma in Vermont, U.S.A. by John McLeod Designs for many decades. I no longer see the Yellow Birch salad bowl on their site and I assume they stopped making it. I recently sold the yellow birch plates that I purchased at the same time that I purchased the salad bowl. It is now time for me to let someone else enjoy the salad bowl as I no longer entertain like I used to do.

This is the description of Yellow Birch as shown on The Vermont Bowl Company where these beautiful plates are crafted in Vermont. This same size bowl is now selling on the John McLeod site for $145 plus shipping as of August, 2023; however, they no longer have the Yellow Birch as an option.

"Yellow Birch. This is our main wood of choice. It has a very close grain, has excellent working capabilities and has a nice well identified grain pattern after some time exposed to light it darkens down to a very friendly brownish red to give character to the wood." They are hand rubbed with a smooth, sleek silky finish that lets the beauty of the wood show through. This gorgeous salad bowl was made by talented craftsmen in the State of Vermont and they have been in business for many years making these beautiful wood products.

The color of the yellow birch salad bowl is much prettier and warmer than shown in my photos as it was a difficult color to capture. The salad bowl measure 9-1/2" in diameter and 5-1/4" in height.

The salad bowl is pre-owned with only a little wear to it as I only used it a couple of times. There ia a bit of wear on the bottom probably from tossing the salad with the salad servers. There is a small sticky spot on the side which is where the price tag was. That can be removed with Goo Gone, unfortunately, I did not have at the moment.

On the back of the salad bowl is the care instructions which say to wash in warm soapy water, rinse and dry thoroughly. John McLeods' signature plus "A John McLeod Designs" and "Crafted Exclusively for Williams - Sonoma in Vermont, U.S.A." looks as though it has been wood burned or etched into the bottom of the salad bowl for a nice touch.

Bunny rabbit heavy metal salad servers are not included with the salad bowl.

A salad will look beautiful in this gorgeous U.S.A. made wooden salad bowl. Perfect for a entertaining, an evening dinner, a barbecue, in a country kitchen island filled with colorful fruit for decoration as well as for entertaining year round.

_______________________________________________________________
All photos and text are copyrighted with the Library of Congress and the sole property of Midnight Glamour and cannot be duplicated or copied in any manner and you will be prosecuted if used.
________________________________________________________________
Care Instructions
We examine each item carefully and note any imperfections, but unless an item is said to be new, please don't expect it to be perfect & even some new items have small imperfections. I will always state in the description if there are any imperfections & I never do repairs but leave them to others who are better able to do them than me as that is not my expertise.
Please remember that unless specified all items have been used and will show varying signs of use or wear. We always list the obvious imperfections to the best of our abilities. However, some slight imperfections that will not show or affect wearing or using the item may slip by or not be considered worth mentioning.

Vintage nightgowns & peignoirs may be delicate so I do not wash them in the machine. I wash them in lukewarm water with Woolite or some other mild soap, then rinse & hang dripping wet in the shower.

Since these are vintage items, a bit of extra care needs to be taken with them so they remain beautiful & I definitely would never put a vintage nightgown or a peignoir in the dryer as it would ruin it.

The items are sold as we find them. We do not dry clean, launder, alter or repair vintage clothing and they should be cleaned or washed upon arrival. Please make your selection carefully & check the measurements. We hope you enjoy what you purchased but we know sometimes things do not fit quite as you would like or the color is wrong.  In that case, we do allow one exchange or a store credit on any item that you want. There are about 2,000 items in the store and more are being added all the time so you have a large selection to choose from.
You must email before returning an item so I can give you the information that you need to exchange the item.
International customer have 14 days to contact Midnight Glamour about returning an item if they should want to.  International customers may have to pay be additional customs and import taxes and there maybe unforeseen customs delays. The seller is not responsible for these delays nor for the custom charges as that is the international customer's obligation when purchasing an item outside your country.