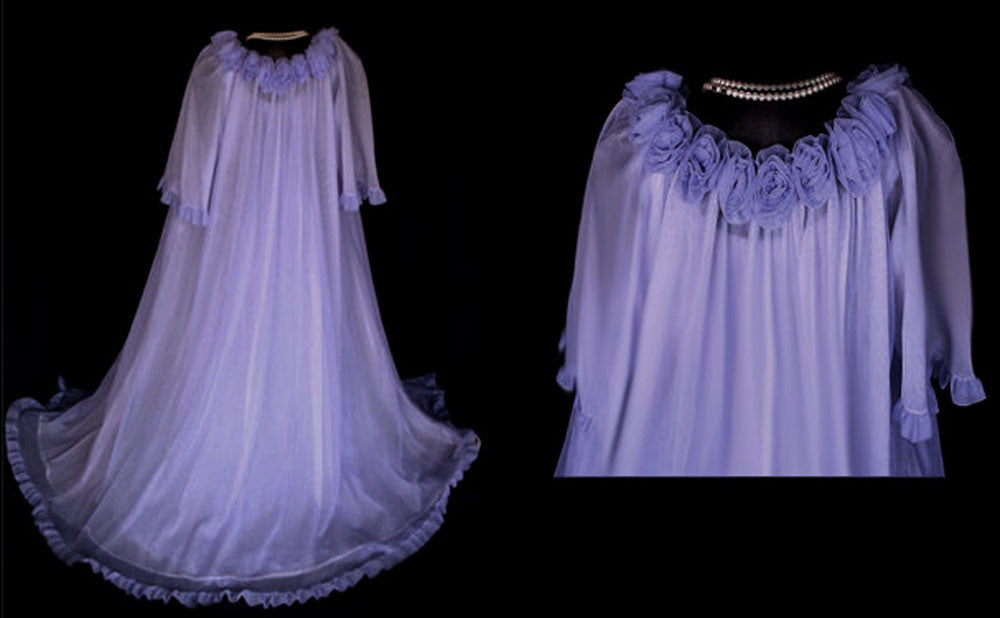 *FROM MY OWN PERSONAL COLLECTION - RARE, RARE VINTAGE JENELLE OF CALIFORNIA PEIGNOIR & NIGHTGOWN SET ADORNED WITH DOUBLE NYLON ROSES IN FRENCH LILAC
This is one of the most beautiful & unique peignoir & nightgown sets that I have ever seen & owned by Jenelle of California in French Lilac.


18 large gorgeous double nylon roses surround the neck of the peignoir with another rose at the waist. The color was very difficult to photograph since one layer of set is a pale pink & the other is a blue lavender overlay but I got as close as I could to the actual color. The color changes depending on the lighting conditions.  Under daylight, it looks more blue as the blue tones come out but under electric lights, it looks lavender so it was hard to get an accurate color shade in the photos. So the colors will not be exactly as shown in the photos. The color of the roses looks much darker & rather blue in the photos but they are the same shade as the peignoir.


Layers of sheer double nylon in both the peignoir & the gown is in a breathtaking shade of French Lilac.  The underlayer is a light pink blush shade which makes for a beautiful combination with the French Lilac layer over it.  Double nylon full sleeves with a ruffle.  Another ruffle at the hemline of the full peignoir.  The matching gown is just as gorgeous as the peignoir with the same 2-tone double nylon.  The empire-style bodice is gathered with an attached tie which ties in back for a huge bustline look.


There is a large double nylon rose in the center to match the roses on the peignoir - sheer double nylon in the full skirt with a ruffled flounce hem.


Just a stunning vintage Jenelle of California peignoir & nightgown set by one of the most wonderful vintage peignoir manufacturers there was in a fabulous rare color of French Lilac.
By: Jenelle of California
Size: No size tag but I wear a size 8 - 10 & it fit me & will fit other sizes but go by the measurements for a good fit
Appx. Measurements
Peignoir
Bust: All the way around 61
Length: 55-1/2
Nightgown
Bust: 40 - 46 stretched tight
Length: 54
Fabric: Double nylon
Condition: Very good - some picks on the nylon which is natural for a garment of this age but would not be noticeable at night. I only saw them when holding it up to the light.
Care: I would hand wash drip dry
_________________________________________________________________
All photos and text are copyrighted with the Library of Congress and the sole property of Midnight Glamour and cannot be duplicated or copied in any manner and you will be prosecuted if used.
_________________________________________________________________
Care Instructions
We examine each item carefully and note any imperfections, but unless an item is said to be new, please don't expect it to be perfect & even some new items have small imperfections. I will always state in the description if there are any imperfections & I never do repairs but leave them to others who are better able to do them than me as that is not my expertise.
Please remember that unless specified all items have been used and will show varying signs of use or wear. We always list the obvious imperfections to the best of our abilities. However, some slight imperfections that will not show or affect wearing or using the item may slip by or not be considered worth mentioning.

Vintage nightgowns & peignoirs may be delicate so I do not wash them in the machine. I wash them in lukewarm water with Woolite or some other mild soap, then rinse & hang dripping wet in the shower.

Since these are vintage items, a bit of extra care needs to be taken with them so they remain beautiful & I definitely would never put a vintage nightgown or a peignoir in the dryer as it would ruin it.

The items are sold as we find them. We do not dry clean, launder, alter or repair vintage clothing and they should be cleaned or washed upon arrival. Please make your selection carefully & check the measurements as there is no return on clothing or other items.
International customer have 14 days to contact Midnight Glamour about returning an item if they should want to.  International customers may have to pay be additional customs and import taxes and there maybe unforeseen customs delays. The seller is not responsible for these delays nor for the custom charges as that is the international customer's obligation when purchasing an item outside your country.
Since we are a small business we do not credit your return back to a credit card. We only allow an exchange for another item or a store credit which is good for one month after which time, it is canceled if not used.  We do not accept returns or cancellations.  Shipping fees are not refundable.