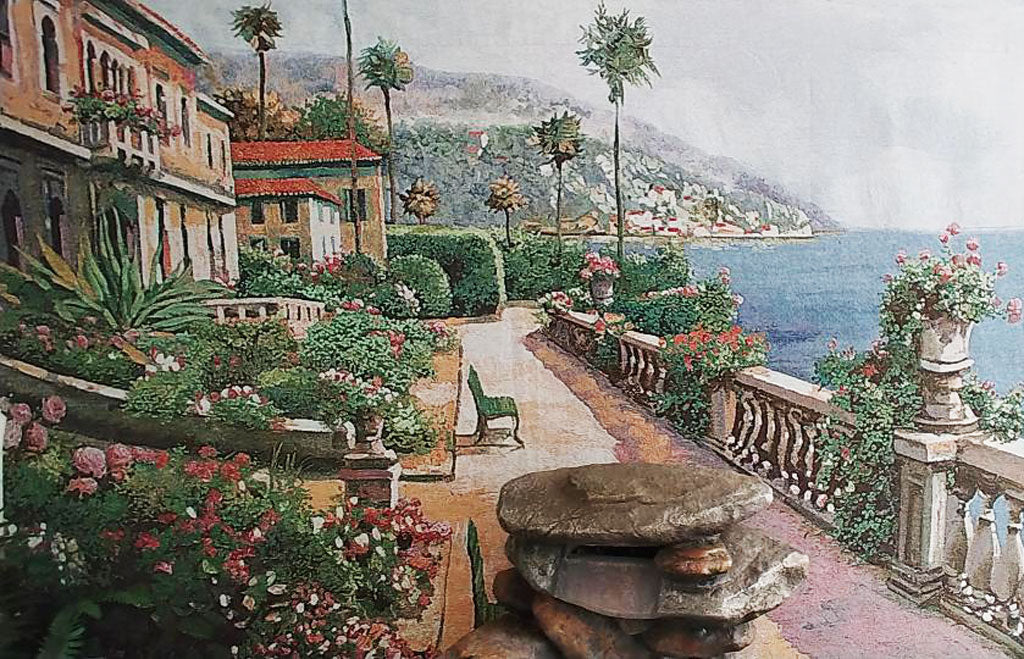 *NEW - EXTRA LARGE BELLA AMALFI GRANDE HEAVY WALL TAPESTRY BY MANUAL WOODWORKERS & WEAVERS
I love this beautiful huge NEW wall tapestry called Bella Amalfi (means Beautiful Amalfi in Italian) by Manual Woodworkers & Weavers.  The scene is absolutely gorgeous and so tranquil that it makes one feel as though you are there.
The wall tapestry is very heavy and displays beautifully on a dining room wall, living room, entry or enclosed porch where I used mine. I have my fountain in front of mine so it makes a beautiful backdrop for it.
I bought two of these wall tapestries and did not need the second one so I am selling it at a good discount.  I have seen this same tapestry that I am selling for $129.99 sell for $374.  
The colors are beautiful pastels in varied shades so it will fit in anywhere.  I love sitting on the porch and looking at the tapestry as it is so relaxing and the next best thing to being on the Amalfi Coast.  The tapestry is signed at the bottom of the tapestry - Original Artwork by Guido Borelli.
The tapestries by this U.S.A. company in the Blue Ridge Mountains of North Carolina are woven on Jacquard looms with cotton and blended yarns by loom; cotton polyester and alga don blend.  The back is lined with a heavy black fabric to finish it . It is extremely well made.
There is a rod pocket sleeve at the bottom of the tapestry and a weighted bottom bar which slips through which gives it weight for even hanging.  If you wish you can purchase a decorative rod on line which would slip through the finished top pocket to hang it.  I wanted mine for my enclosed porch so screws were used to attach it to the wall and I did not need a decorative rod.
It measures 70"  horizontally x 50" vertically and is not only heavy but very large and commands everyone's attention when entering the room where it is hanging.  I have received so many compliments on mine and I know you will too.
The photos that are posted are showing my tapestry I have on my enclosed porch wall as I had purchased 2 of the tapestries and only used one.  The other is brand new and still in the original box that it came in.
__________________________________
 All photos & text are copyrighted with the library of congress & the sole property of Midnight Glamour & cannot be duplicated or copied in any manner & will be prosecuted if used.
 ________________________________________________________