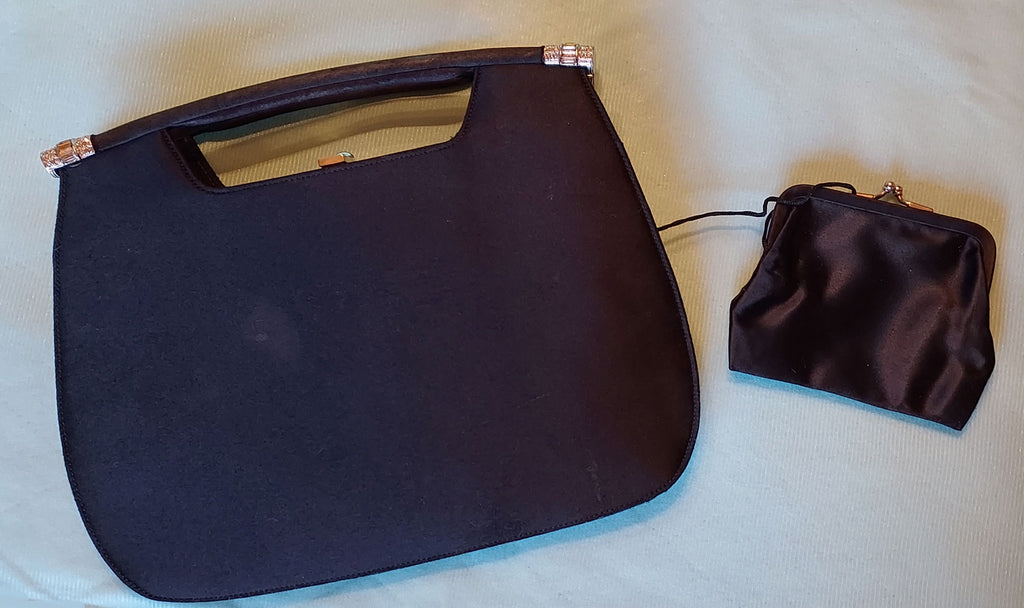 * VINTAGE 1960s BIENEN-DAVIS PEAU D SOIR RHINESTONE EVENING BAG
A vintage 1960s evening bag covered with peau de soie (a satin without the bright sheen to it) in black by Bienen-Davis.
I really like the handles on this purse as they are unique so one's hand can slip through the opening to carry it.  The gold tone clasp on the inside is firm and will close with a good snap sound.  On one side of the purse inside are 3 slits in black satin with to store items such as money, a license, a hanky, etc.  The larger open pocket on the other side contains a matching black satin change purse lined in white satin (the photos make it look like the lining is gold but it is white) which is very handy.  The coin purse is in excellent condition with no signs of use.  It has a very good closure on the top of it.
The opposite side of the interior of the purse has one big deep slit lined in white satin.    The inside of the purse is in very condition with no markings or wear.  The ends of the handles have beautiful sparkling rhinestones on it with some tiny ones missing which is not that easy to see and they could be replaced since craft store sell them.
The outside of the purse has a bit of light scuffing on one side with some lightness on the top of the handles since that was the area that was being carried.  The other side has a 3/4" lighter spot which will not be noticed since that is the side that can be facing one's body and no one could probably notice it anyhow.  All in all, no one would ever notice the imperfections 

There is the name Bienen-Davis stamped inside the purse in gold letters along with the company logo. The purse company was founded in 1931 in New York so they have been around for quite a long time.  Their purse are quite expensive with some ranging over several thousand dollars.  If you look on their website, you will see that their clutch bags range from $1,595 - $1,995 and their other purse are much more expensive at several thousand of dollars each.

The evening bag measures nearly 9" across at the widest point at the bottom, from the top of the handles to the bottom is 7-1/2", 3/4" wide & can expand to about 1-1/2" measured on the side of the frame.

This would be a beautiful accessory with a cocktail dress or evening gown or for a wedding.
_____________________________________________
All photos and text are copyrighted with the Library of Congress and the sole property of Midnight Glamour and cannot be duplicated or copied in any manner and you will be prosecuted if used.
 _______________________________________________________________

We examine each item carefully and note any imperfections, but unless an item is said to be new, please don't expect it to be perfect & even some new items have small imperfections. I will always state in the description if there are any imperfections & I never do repairs but leave them to others who are better able to do them than me as that is not my expertise.
 Please remember that unless specified all items have been used and will show varying signs of use or wear. We always list the obvious imperfections to the best of our abilities. However, some slight imperfections that will not show or affect wearing or using the item may slip by or not be considered worth mentioning.
Vintage nightgowns & peignoirs may be delicate so I do not wash them in the machine. I wash them in lukewarm water with Woolite or some other mild soap, then rinse & hang dripping wet in the shower.

Since these are vintage items, a bit of extra care needs to be taken with them so they remain beautiful & I definitely would never put a vintage nightgown or a peignoir in the dryer as it would ruin it.

The items are sold as we find them. We do not dry clean, launder, alter or repair vintage clothing and they should be cleaned or washed upon arrival. Please make your selection carefully & check the measurements. We hope you enjoy what you purchased but we know sometimes things do not fit quite as you would like or the color is wrong.  In that case, we do allow one exchange or a store credit on any item that you want. There are about 2,500 items in the store and more are being added all the time so you have a large selection to choose from.
You must email before returning an item so I can give you the information that you need to exchange the item. For items that received Free Shipping, actual shipping costs will be deducted from your refund.