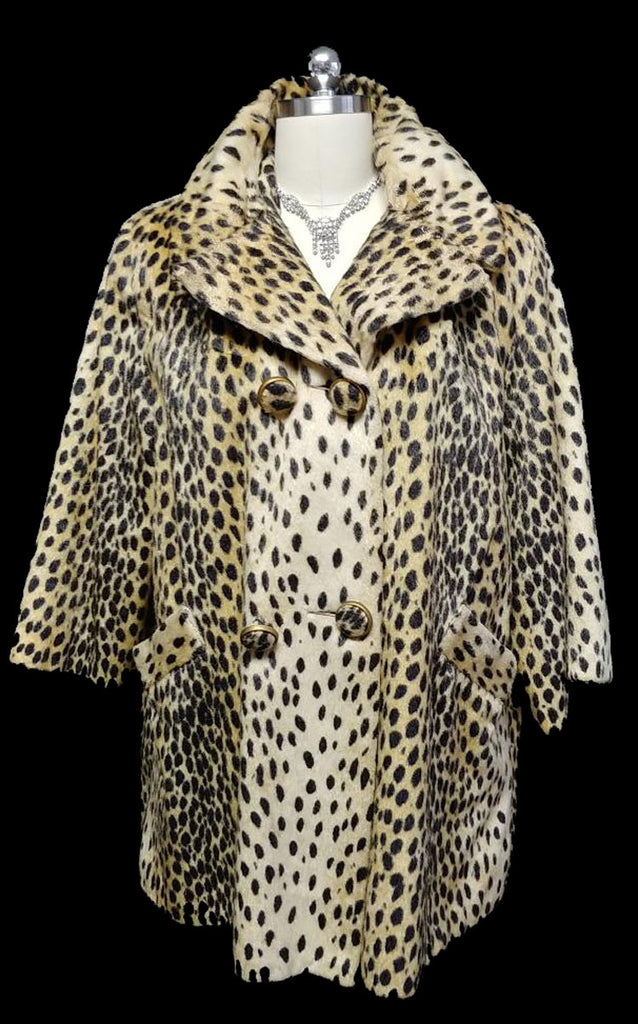 *VINTAGE FAUX FUR LEOPARD COAT WITH HUGE BUTTONS - GREAT FOR FALL OVER JEANS OR SLACKS
Vintage faux leopard stroller coat with huge buttons.


I love the huge 1-1/2" gold tone rimmed leopard buttons on the coat.  3/4 sleeves which would be perfect with long leather gloves. 2 pockets in side seams.  Brown satin lining. International Ladies Garment Workers tag inside coat.  The other side of the label says "National Board Coat & Suit Industry."


So cute with a dress, slacks or jeans.


Approximate Measurements – This means the measurements of the item listed –
not of your own figure. You must be a few inches smaller than the measurements shown.
By:  No tag
Size:  No tag
Bust: 45 - I wear a Size 10 & it fit me but probably not larger.
Shoulder to shoulder:  16-1/3
Sleeve from neck:  24-3/4
Length: 33-1/2
Fabric: No tag but faux fur and satin lining
Care: Dry clean
Condition: Wear and loss of faux fur on the collar and lapels of the coat.  (Tap on the photos to enlarge them so you can see the imperfections better) It is rather stiff and I wonder if someone tried to press it with an iron and maybe that is why is has lost some of the "furriness" and is stiff in that area.  There is an elastic loop at the top of the coat but no button and if the coat were closed with a button that could be added & loop, the damaged lapels would not be seen like they would if open - the collar that has some damage still could be seen but it's not as obvious as when fully open - 2" in seam and 4-1/3" of the INSIDE sleeve lining has opened and need to be stitched closed (shown in last photo) - lining on inside pocket needs to be pulled together.  1" split on the underside of the collar which no one can see - bit of loss of furriness on left upper back of sleeve - couple of pinhead holes in lining - store mark on lining.  Price has been greatly reduced for the imperfections mentioned.

___________________________________________
All photos and text are copyrighted with the Library of Congress and the sole property of Midnight Glamour and cannot be duplicated or copied in any manner and you will be prosecuted if used.
_______________________________________________________________


 We examine each item carefully and note any imperfections, but unless an item is said to be new, please don't expect it to be perfect & even some new items have small imperfections. I will always state in the description if there are any imperfections & I never do repairs but leave them to others who are better able to do them than me as that is not my expertise.
 Please remember that unless specified all items have been used and will show varying signs of use or wear. We always list the obvious imperfections to the best of our abilities. However, some slight imperfections that will not show or affect wearing or using the item may slip by or not be considered worth mentioning.
Vintage nightgowns & peignoirs may be delicate so I do not wash them in the machine. I wash them in lukewarm water with Woolite or some other mild soap, then rinse & hang dripping wet in the shower.

Since these are vintage items, a bit of extra care needs to be taken with them so they remain beautiful & I definitely would never put a vintage nightgown or a peignoir in the dryer as it would ruin it.

The items are sold as we find them. We do not dry clean, launder, alter or repair vintage clothing and they should be cleaned or washed upon arrival. Please make your selection carefully & check the measurements. We hope you enjoy what you purchased but we know sometimes things do not fit quite as you would like or the color is wrong.  In that case, we do allow one exchange or a store credit on any item that you want. There are about 2,000 items in the store and more are being added all the time so you have a large selection to choose from.
 You must email before returning an item so I can give you the information that you need to exchange the item.