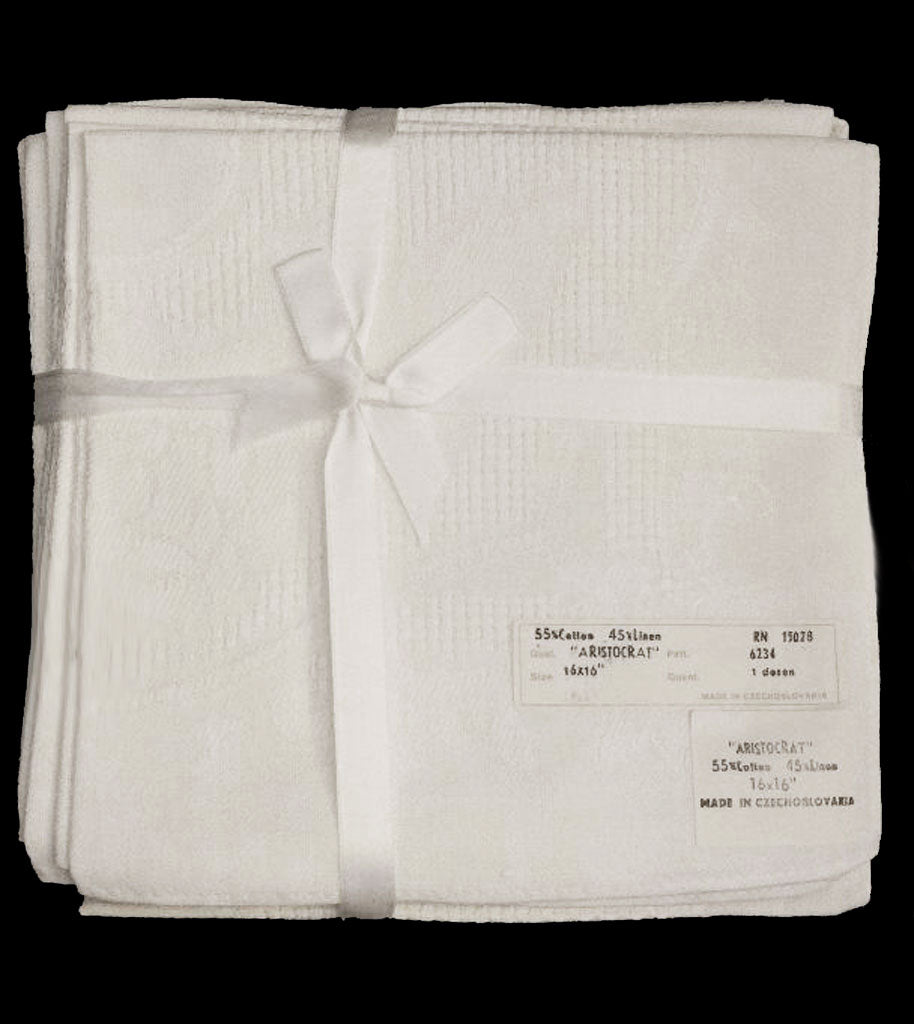 * VINTAGE ELEGANT "ARISTOCRAT" NEW OLD STOCK 1 DOZEN COTTON & LINEN NAPKINS - MADE IN CZECHOSLOVAKIA - NEW OLD STOCK
NEW OLD STOCK from the estate of my mother who would have been over 107 years old come these beautiful 1 dozen napkins in the pattern called "Aristocrat" Made in Czechslovakia.

Each deluxe ivory napkin is out of cotton and linen and measures 16" x 16". The stickers are still on the napkins. There are 12 tied together with a white satin ribbon. The napkins were manufactured by The George E. Bardwil & Sons Company per the RN Number.

I found a bit of information about the company on the internet from the New York Times regarding the Mr. Bardwil and the company and my thanks to them. " Mr. Elias George Bardwil was the Chairman and owner of Bardwil Linens of NYC. The firm was started in the early 1900s by Mr. Bardwil's grandfather and granduncle when they immigrated to America. At the age of 19, Elias moved to China, where he lived for 10 years, learning the family business. Moving back to the States, he ran and built Bardwil Linens from 1950 to 1990. In 1990, Mr. Bardwil became Chairman of the company and his son George took over as President." Regretfully, Mr. Bardwil passed away in 2000 in New York.

As a bonus, I am including a page from a magazine which is approximately from the '60s on how to fold "Shell Napkins" as well as "Candle Napkin" fold for a dinner party. The page has multiple tears as it is quite old but the directions are there on how to make one's dinner table more beautiful with a Shell or Candle Napkin Fold on each plate.

Absolutely gorgeous! Nothing that you can buy in a store now compares with vintage elegant napkins especially ones from Czechslovakia. They would be lovely for a dinner party Christmas dinner, New Year's Eve supper or would make a wonderful gift!
________________________________________________________
 All photos & text are copyrighted with the library of congress & the sole property of Midnight Glamour & cannot be duplicated or copied in any manner & will be prosecuted if used.
 ________________________________________________________