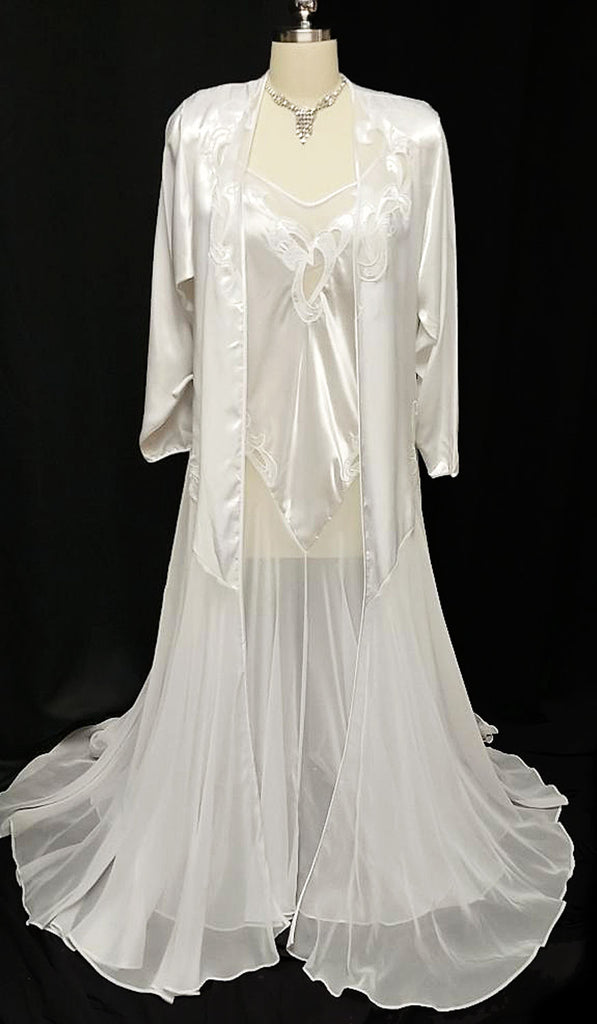 *VINTAGE 80s / 90s NATORI BRIDAL TROUSSEAU PEIGNOIR & NIGHTGOWN SET IN LUSCIOUS GLEAMING SATIN & CHIFFON ADORNED WITH APPLIQUES
A beautiful vintage bridal trousseau peignoir and nightgown set by Natori in a silky gleaming white satin and chiffon adorned with appliques and sheer nylon.   Natori is usually sold in very high-end stores like Neiman Marcus, Saks Fifth Avenue, Bergdorf Goodman, Lord & Taylor, I Magnin and others.

Gorgeous satin that slips through one's fingers like melted butter.  Beautifully outlined appliques on sheer nylon.  Wide glamorous draped sleeves which taper down at the wrist.  Satin covered shoulder pads which could be removed but they are there to give shaping to the peignoir shoulders so I would leave them.  No pockets but there are inside ties and a matching outside tie belt with loops which was not shown in the photos.  Nice wide nearly 3" satin tie belt.  Appliques low on the hip area on either side of the peignoir with lots of sheer nylon chiffon to swirl around one's legs.  Love the back of the peignoir with a "V" satin insert on the back before traveling down to meet the chiffon.  The peignoir is long enough for a slight train in back and some pudding of the nylon for a glamorous look!
The matching nightgown has more appliques on the bodice with a modified "V" satin trimmed neckline with sheer nylon under that.  Two extra large appliques at the hip area on the satin which ends in a  "V"  before the chiffon skirt.   There is another "V" on the lowered back just like the peignoir has along with criss cross spaghetti straps.  
A very glamorous vintage set by the wonderful Natori!  This lovely peignoir and nightgown set is perfect for a bride's wedding night or trousseau or when you want to look gorgeous.
By: Natori - Made in the Philippines where all the beautiful embroidered vintage items used to come from.
Size: Small and may fit a bit larger but but go by the measurements for a good fit
Approximate Measurements – This means the measurements of the item listed – not of your own figure.  You must be a few inches smaller than the measurements shown.

Peignoir
Bust: 38-1/2 all the way around.  I wear a size 10 and the peignoir fit me since I tried it on open and did not use the belt as I prefer a peignoir to float behind me when I walk.  If left open and not belted it fit me a size 10 and it should fit smaller but not larger 
Shoulder to shoulder:  16-1/8
Sleeve from neck:  27
Length: 61 - 62 so it will form a slight train in back and puddle on the sides
Nightgown
Bust: 35 - 36 but leave a couple of inches for movement
Waist: 34 - 35 
Hips:  34 but leave some room for movement
Length measured from the gown under the arm - could not measure any other way because of the criss cross straps in back: 47 - 48 
Fabric: 100% Silky smooth expensive poly satin and poly chiffon
Care: Washable
Condition: Very good with a couple of imperfections - There is a dark mark on the right shoulder.  (Shown in next to the last photo) I have been thinking about trying to see if it will come off but am not sure if I should or not as I do not want to ruin it.  I know some people use a bleach pen but not sure how the fabric would react to that so I think I will leave it for the new owner who may have more experience in removing a spot or using a bleach pen.  When I was measuring the peignoir at the very end, the light hit one of the sleeves and I was white on white spots on the one sleeve.  They may possibly come out but again I think I will leave it as I do not want to do damage to the set.  I nearly missed the spots as they blended in very well until the lighting hit them the right way.  (Shown in the 3rd photo from the end) Would never notice them at night I am sure.
_________________________________________


All photos & text are copyrighted with the library of congress & the sole property of Midnight Glamour & cannot be duplicated or copied in any manner & will be prosecuted if used.
---

Care Instructions
We examine each item carefully and note any imperfections, but unless an item is said to be new, please don't expect it to be perfect & even some new items have small imperfections. I will always state in the description if there are any imperfections & I never do repairs but leave them to others who are better able to do them than me as that is not my expertise.
Please remember that unless specified all items have been used and will show varying signs of use or wear. We always list the obvious imperfections to the best of our abilities. However, some slight imperfections that will not show or affect wearing or using the item may slip by or not be considered worth mentioning.

Vintage nightgowns & peignoirs may be delicate so I do not wash them in the machine. I wash them in lukewarm water with Woolite or some other mild soap, then rinse & hang dripping wet in the shower.

Since these are vintage items, a bit of extra care needs to be taken with them so they remain beautiful & I definitely would never put a vintage nightgown or a peignoir in the dryer as it would ruin it.

The items are sold as we find them. We do not dry clean, launder, alter or repair vintage clothing and they should be cleaned or washed upon arrival. Please make your selection carefully & check the measurements as there is no return on clothing or other items.


---
All photos & text are copyrighted with the library of congress & the sole property of Midnight Glamour & cannot be duplicated or copied in any manner & will be prosecuted if used.