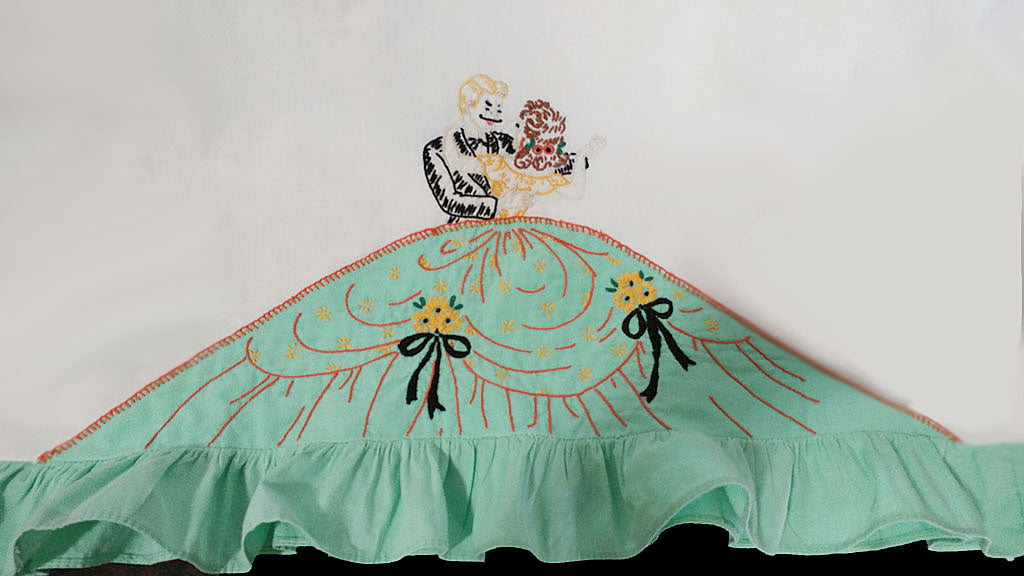 *VINTAGE HEIRLOOM HAND EMBROIDERED & RUFFLES SOUTHERN BELLE & GENTLEMAN PILLOW CASES - 1 PAIR - LIKE NEW
Recently I was fortunate enough to come across a number of beautiful pillow cases and will be putting them on my site in the near future.  And this set of pillow cases is probably my favorite one of all of the pillow cases I have listed so far!

My mother and grandmother crocheted as well as embroidered decades ago and I know that this handwork of crocheting and embroidering takes quite a bit of time to do.  People just do not do this hand work anymore and it is difficult to find pillow cases this beautiful and in such great condition. 

These vintage pillow cases are from the '50s or '60s when people did this detailed type of work and life was a lot slower and not so hectic. The pillow case which has been made from pillow case tubing (there is one sharply pressed side seam with a sharp crease on the side instead of a seam - I have noticed that nearly all of these Crinoline Lady, Colonial Lady and Southern Belle pillow cases have been made this way and I assume that is how they were all pretty much made in the 50s and 60s). 
The mint green color of the Southern Belle's ball gown is not a color one sees often and it is gorgeous!  The striking mint green skirt and ruffle has bouquets of yellow flowers, green leaves and is tied with long black bows and adorn her dress. Great embroidered detailing on the pillow cases including her black eyelashes, flowers in her hair and dainty white hands.  The gentleman has a black mustache and is wearing a tuxedo and looking at his dance partner adoringly. 

From the top to bottom of the mint green skirt, it measures 
6-5/8" vertically and approximately 17-5/8" across the bottom of the skirt not including the ruffle and this is the largest skirt on any of the pillows cases so far that I have put on my site. The ruffle continues around to the back for interest.
The measurement of the pillow cases are approximately 20-1/4" across X 
29-5/8" - 30" vertically depending on where it is measured on the ruffle.  The set is very reminiscent of Gone With the Wind as they dance together which is my favorite movie of all time.  No wonder I fell in love with these pillow cases!
The pillow cases will come to you freshly laundered, lightly starched and ironed and ready for you to put on your bed.  They are in excellent and look as though they were rarely used.
These vintage heirloom embroidered pillow cases with ruffles in a fabulous shade of mint green would make a guest room look beautiful, be perfect as a wedding present for a bride who loves vintage linens, a housewarming gift or create a shabby chic look to a bedroom.
________________________________________________________________
All photos and text are copyrighted with the Library of Congress and the sole property of Midnight Glamour and cannot be duplicated or copied in any manner and you will be prosecuted if used.
________________________________________________________________
Care Instructions
We examine each item carefully and note any imperfections, but unless an item is said to be new, please don't expect it to be perfect & even some new items have small imperfections. I will always state in the description if there are any imperfections & I never do repairs but leave them to others who are better able to do them than me as that is not my expertise.
Please remember that unless specified all items have been used and will show varying signs of use or wear. We always list the obvious imperfections to the best of our abilities. However, some slight imperfections that will not show or affect wearing or using the item may slip by or not be considered worth mentioning.

Vintage nightgowns & peignoirs may be delicate so I do not wash them in the machine. I wash them in lukewarm water with Woolite or some other mild soap, then rinse & hang dripping wet in the shower.

Since these are vintage items, a bit of extra care needs to be taken with them so they remain beautiful & I definitely would never put a vintage nightgown or a peignoir in the dryer as it would ruin it.

The items are sold as we find them. We do not dry clean, launder, alter or repair vintage clothing and they should be cleaned or washed upon arrival. Please make your selection carefully & check the measurements as there is no return on clothing or other items.