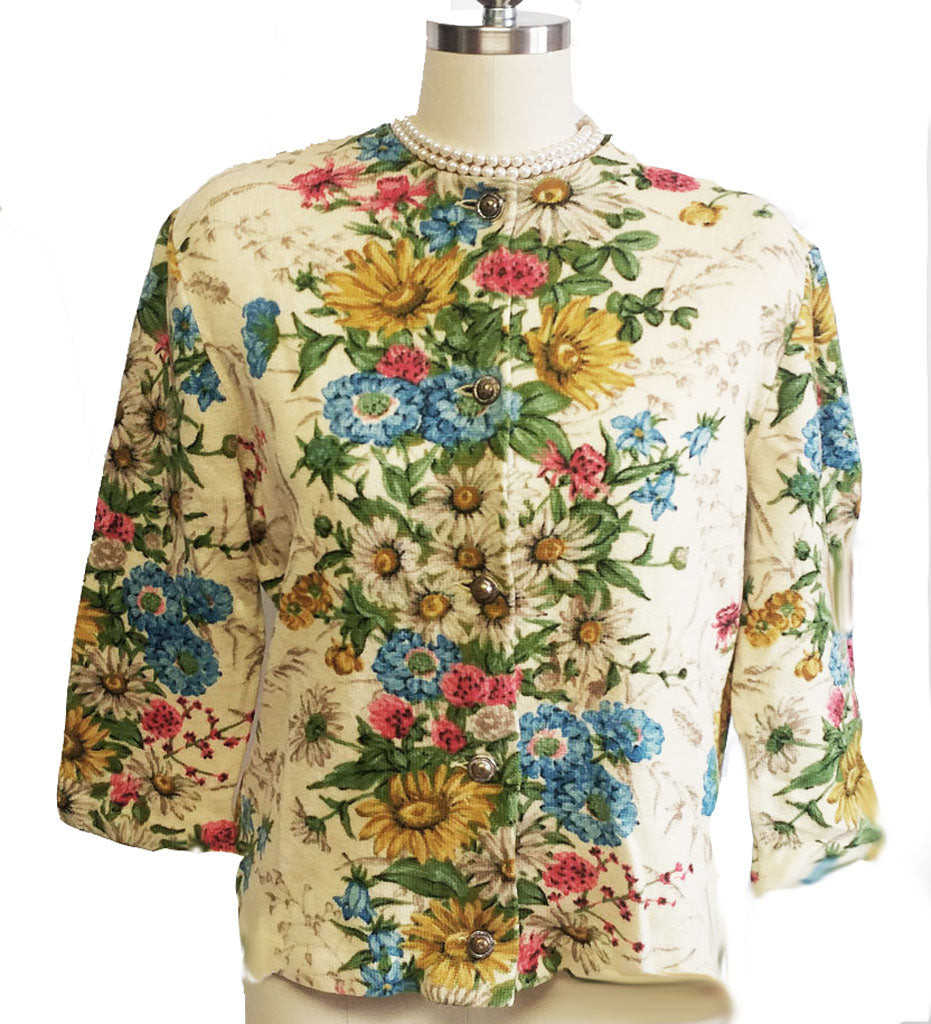 *VINTAGE KIO IMPORTED BY HOOPER MADE IN WEST GERMANY FLORAL SWEATER WITH BEAUTIFUL METAL BUTTONS
A beautiful vintage sweater adorned with an entire flower garden on it!  
Multi-colored flowers in delphinium blues, raspberry, marigold, leaf green, birch and moss green on an French vanilla background make for a sweater you will wear with many dresses, slacks and jeans.  Gorgeous colors on the sweater!
I love the buttons which are decorated in two-tone metal of gold and silver which are rounded and raised in the center.  It is hard to find metal buttons nowadays and these buttons are lovely.  3/4 quarter length sleeves.  There are still crisp folds in the arms and it looks as though the sweater has not been worn much if at all.
They did a beautiful job of matching the print in front so when the sweater is closed the flowers match.  You will never see that nowadays in sweaters as manufacturers do not take the time to do that.
Perfect for spring and summer which will be here before you know it.
By:  Kio Imported by Hooper Associates - Made in West Germany
Size: 14 but that is old measurements.  I wear a size 10 and it looks as though it would fit me but certainly not a larger size.  Manufacturers changed measurements in appx the '70s so go by the my measurements for a good fit
Appx Measurements - The measurements are of the sweater - not your figure.  You must be a few inches smaller than the measurements shown.
Bust: 43
Shoulder to shoulder:  17-1/4
Sleeve from neck to end:  24-1/4
Length: 23-1/4
Fabric: 100% Virgin Wool with the wool insignia - pure new wool
Care: On the tag, it looks like there is a tub with water 
Condition: Very good - some light pilling which could be removed and I would suggest a dry cleaning to freshen up the sweater.
________________________________________________________________
All photos and text are copyrighted with the Library of Congress and the sole property of Midnight Glamour and cannot be duplicated or copied in any manner and you will be prosecuted if used.
________________________________________________________________
Care Instructions
We examine each item carefully and note any imperfections, but unless an item is said to be new, please don't expect it to be perfect & even some new items have small imperfections. I will always state in the description if there are any imperfections & I never do repairs but leave them to others who are better able to do them than me as that is not my expertise.
Please remember that unless specified all items have been used and will show varying signs of use or wear. We always list the obvious imperfections to the best of our abilities. However, some slight imperfections that will not show or affect wearing or using the item may slip by or not be considered worth mentioning.

Vintage nightgowns & peignoirs may be delicate so I do not wash them in the machine. I wash them in lukewarm water with Woolite or some other mild soap, then rinse & hang dripping wet in the shower.

Since these are vintage items, a bit of extra care needs to be taken with them so they remain beautiful & I definitely would never put a vintage nightgown or a peignoir in the dryer as it would ruin it.

The items are sold as we find them. We do not dry clean, launder, alter or repair vintage clothing and they should be cleaned or washed upon arrival. Please make your selection carefully & check the measurements as there is no return on clothing or other items.