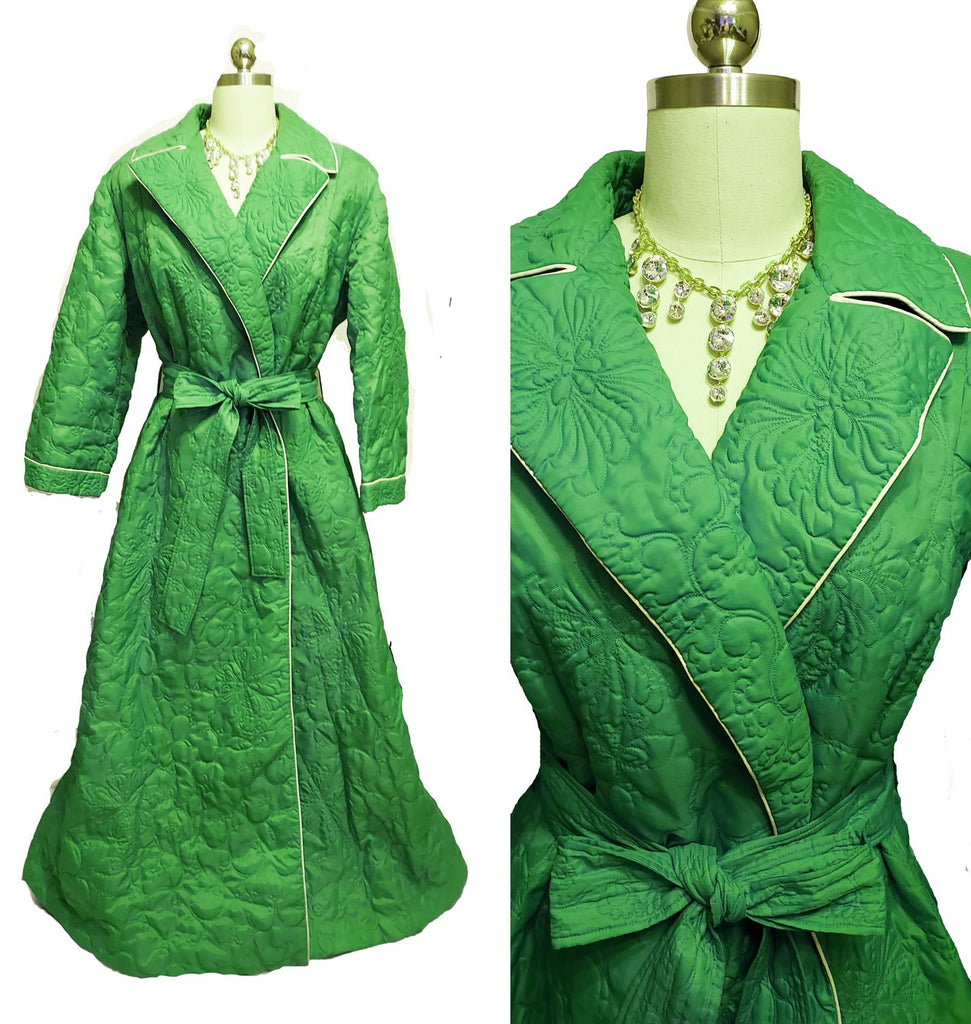 *VINTAGE LATE '60s QUILTED ROBE FROM HONG KONG IN LILY PAD - LARGE SIZE
A beautiful vintage '60s / '70s quilted robe was made in Hong Kong in a shade called Lily Pad.
I remember when I was growing up that I wanted one of these quilted robes from Hong Kong but there was just no way that it was possible.  I now I have a very large collection of these in various gorgeous colors & am selling the remainder of my collection for someone else to enjoy them.

It is the ideal robe to wear when you want to look glamorous for a special evening at home or entertaining someone special. Although these fabulous robes are quilted, they are light as a feather & will keep you warm without a lot of weight.

What is so great about these vintage quilted robes from Hong Kong is that each of them has a different theme design.  This one has a lovely quilted paisley design - some have koi fish, fleur de lis, leaves & buds, a water lily & vine design, others have chrysanthemums, a phoenix rising up, roses or other types of flowers, etc. - each one is different.

The inside of these robes are finished with beautiful workmanship & have no exposed seams.  The inside is as beautiful made as the outside of the robe.  These quilted robes from Hong Kong have stood the test of time & are as beautiful now as they were when they were made.

The color is luscious! And the fabric is silky smooth & expensive.  There is intricate quilting on the lapels and ends of the sleeves finished with white piping for a pretty contrast.
It is an easy to wear wrap robe with a matching tie belt and loops.  There is also an inside tie to secure it which has come off but it is easy to tack it on the inside of the robe.  There are two pockets in the side seams to hold your hankie. The robe has a lovely matching green matching silky lining with no exposed seams and is beautifully made.
Just a beautiful vintage quilted robe from Hong Kong in Lily Pad for when you want to look glamorous & stay warm at the same time.

By: The label has been removed but all of these quilted robes were made in Hong Kong in the late '60s /early '70s.
Size: Large
Approximate Measurements – This means the measurements of the item listed – not of your own figure.  You must be a few inches smaller than the measurements shown.

Bust: 51 but remember one side of the robe needs to go over the other side
Shoulder to shoulder: 18
Sleeve from neck: 26-1/2
Length: Nearly 57
Fabric: 100% poly 
Care: Washable
Condition: Very good – There are two places on the INSIDE lining of the robe on the same side that will need a few stitches either by hand or machine to close the seam. The area next to the waist that is open is where the inside tie needs to go. Easy job for the cleaners or yourself.
_____________________________________________________________

All photos & text are copyrighted with the Library of Congress & the sole property of Midnight Glamour & cannot be duplicated or copied in any manner & will be prosecuted if used.
 ___________________________________________________________________

Care Instructions
We examine each item carefully and note any imperfections, but unless an item is said to be new, please don't expect it to be perfect & even some new items have small imperfections. I will always state in the description if there are any imperfections & I never do repairs but leave them to others who are better able to do them than me as that is not my expertise.
Please remember that unless specified all items have been used and will show varying signs of use or wear. We always list the obvious imperfections to the best of our abilities. However, some slight imperfections that will not show or affect wearing or using the item may slip by or not be considered worth mentioning.

Vintage nightgowns & peignoirs may be delicate so I do not wash them in the machine. I wash them in lukewarm water with Woolite or some other mild soap, then rinse & hang dripping wet in the shower.

Since these are vintage items, a bit of extra care needs to be taken with them so they remain beautiful & I definitely would never put a vintage nightgown or a peignoir in the dryer as it would ruin it.

The items are sold as we find them. We do not dry clean, launder, alter or repair vintage clothing and they should be cleaned or washed upon arrival. Please make your selection carefully & check the measurements as there is no return on clothing or other items.