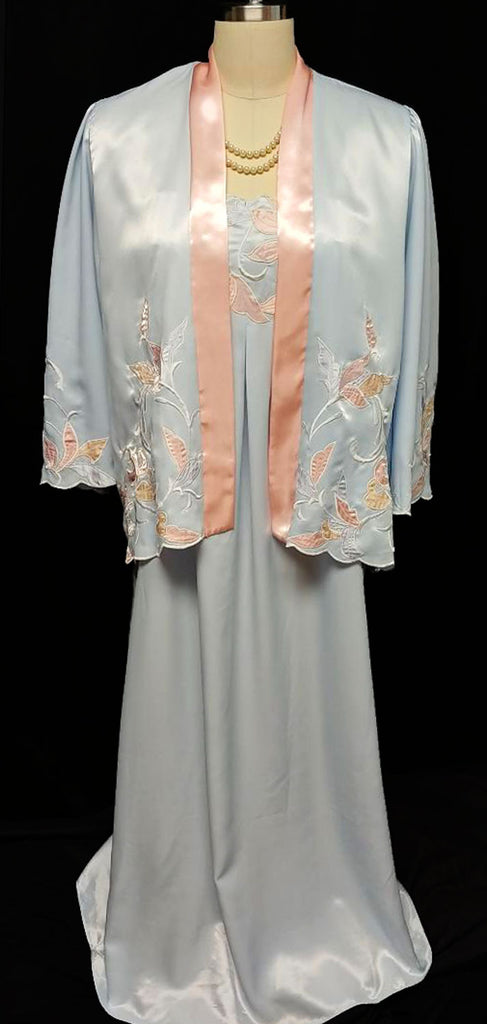 *VINTAGE NATORI BLUE & PEACH SATIN PEIGNOIR & NIGHTGOWN ADORNED WITH APPLIQUES
A absolutely gorgeous vintage peignoir and nightgown set in blue and peach satin adorned with detailed floral and leaf appliques.  Absolutely stunning!
The colors of the set are so gorgeous and such a unique combination. The set is out of a almost heavy liquid satin fabric with a wonderful feel to it - silky smooth.  The peignoir bed jacket has wide strips of peach satin down the front with fabulous peach, pale pink, light blue and pale gold floral and leaf appliques at the bottom of the scalloped jacket.  There are more appliques on the ends of the scalloped sleeves.  Josie Natori is known for her exquisite vintage peignoir sets with beautiful appliques.  You do not see many of those in her present day collections as one did in the '80s.  Large satiny appliques on the intricate scalloped lace.  No closure on the jacket as you would want to see the beautiful nightgown underneath.
The matching nightgown is just as lovely with the gorgeous applique detailing. Sewn closed pleating on the bodice with fabulous appliques. Spaghetti straps.
It is rare when one sees a peignoir set with this much detailing as this vintage set.  Manufacturers just do not make them like this anymore unfortunately.
Just an exquisite vintage '80s blue and peach satin applique peignoir set by the wonderful Natori.  The design and color combination is a work of art which you will never see again!
By: Natori - Made in the Philippines where they used to make all these gorgeous applique peignoirs and nightgowns.
Approximate Measurements – This means the measurements of the item listed – not of your own figure.  You must be a few inches smaller than the measurements shown.
Peignoir
Size: Petite but I wear a Size 10 and the bed jacket fit me and it will fit other sizes as well but probably not larger.  But go by the measurements for a good fit.
Bust: 42
Sleeve from neck:  26
Shoulder to shoulder:  14-7/8
Length: 28-1/2
Nightgown
Size: The nightgown is for a very small slim person. It is marked a Petite and may possibly fit a Size Small as well but go by the measurements for a good fit
Bust: 34 - 38
Hips: 48 (but you must be MUCH smaller than that because not only do you need to make a repair to the seam in back but satin does not stretch - see condition below for more detail)
Length: 54-1/2
Fabric: Heavy poly satin
Care: Washable
Condition: Good vintage with some flaws  (photos attached) - I do not want anyone to be disappointed in this gorgeous set so please read about the flaws before purchasing and make sure that you are all right with them and realize that the gown has flaws which will need to be fixed before wearing.

I do not see any flaws in the bed jacket other than normal wear. 

The flaws are in the nightgown which is always worn more than the peignoir.  On the bodice there is stress on the vertical seams (Shown in a photo 3rd from the end.)  These could be resewn to make more secure.  Next to that on the left are "raised dots' in the fabric that satin gets especially in vintage items.  In the breast area there is about a 1/4" opening at the apex that needs to be tacked closed.  (Shown in 3rd photo from the end)  On one side of the gown under the arm, a small seam started to open but the seams were double sewn so there is still a closed seam under that. There also more raised "dots" on the back of the skirt on the seat area to the right of a 5" opening in the back seam.  (Shown in next to the last photo) It looks as though someone was wearing the gown which was too small for her and when she sat down, she stressed the seam and it opened along the side of it next to the seam.  A cleaner or alteration person could re-sew that but they would have to take the seam in more than the original seam so you must have smaller measurements than what is shown above in order to wear this gown comfortably and not cause more stress in it.

The price has been reduced for the flaws and the set would have been twice as much as it is without them.

One needs to be very careful with vintage clothing because they are delicate and need special handling and care and are not to be treated like a garment just bought from the mall.  They are precious and must be treated with special care in order to preserve them.
 ______________________________________________________
All photos & text are copyrighted with the library of congress & the sole property of Midnight Glamour & cannot be duplicated or copied in any manner & will be prosecuted if used.
---

Care Instructions
We examine each item carefully and note any imperfections, but unless an item is said to be new, please don't expect it to be perfect & even some new items have small imperfections. I will always state in the description if there are any imperfections & I never do repairs but leave them to others who are better able to do them than me as that is not my expertise.
Please remember that unless specified all items have been used and will show varying signs of use or wear. We always list the obvious imperfections to the best of our abilities. However, some slight imperfections that will not show or affect wearing or using the item may slip by or not be considered worth mentioning.

Vintage nightgowns & peignoirs may be delicate so I do not wash them in the machine. I wash them in lukewarm water with Woolite or some other mild soap, then rinse & hang dripping wet in the shower.

Since these are vintage items, a bit of extra care needs to be taken with them so they remain beautiful & I definitely would never put a vintage nightgown or a peignoir in the dryer as it would ruin it.

The items are sold as we find them. We do not dry clean, launder, alter or repair vintage clothing and they should be cleaned or washed upon arrival. Please make your selection carefully & check the measurements as there is no return on clothing or other items.


---