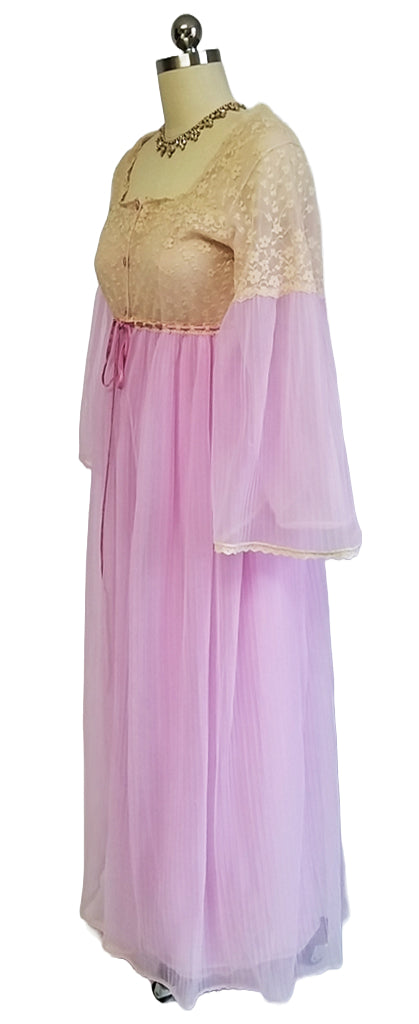 *VINTAGE INTIME DOUBLE NYLON & LACE PLEATED LACE PEIGNOIR & NIGHTGOWN SET IN JUNGLE ORCHID
This vintage peignoir & nightgown set by Intime is in a gorgeous unique shade called Jungle Orchid.

Lots of double nylon in both the peignoir & the gown for a total of 4 layers of nylon. The orchid shade is a paler much more subdued and softer color than the photos and not as bright. The peignoir & nightgown are adorned in exquisite contrasting ecru lace which makes for a beautiful color combination.

The top layer of the peignoir is loose pleated nylon with sheer nylon under that. There is an orchid satin ribbon running through the lace at the waist with self-covered satin buttons for closure. Full loose pleated double nylon sleeves accented with miniature ecru lace on the ends.

The nightgown is just as lovely as the peignoir with more ecru lace on the bodice & back. There are 2 layers of nylon in the nightgown with the top layer being sheer & pleated. Skinny spaghetti straps. The hemline is trimmed with small ecru lace for the finishing touch to this lovely set.

You know the exquisite quality of Intime with its wonderful workmanship and detailing that people have loved the world over and it is the finest name in vintage peignoir and nightgown sets that you can buy.

Designer: Intime
Size: Medium but go by the measurements for a good fit

Peignoir
Bust: closed 36 - 39 stretched; if left open more
Length: appx 55

Nightgown
Bust: - 37 - 40 stretched tight but do not stretch to the max as it will not be comfortable
Waist: 32 - 35 stretched tight
Length: 54-1/3
Fabric: Double nylon on both the nightgown and the peignoir
Care: I would hand wash & drip dry - do not put in a washing machine or a dryer as you will ruin it
Condition: Very good - some tiny picks in the nylon which it gets but would not be noticeable at night. On the nightgown a couple of very small things to note: an inch on 2 of the seams at the waist in front are separated & need a few stitches to pull together & on the side at the waist 1/3" of the pleated fabric has pulled away & a couple of stitches would take care of that. One of the button holes on the peignoir needs to be tightened up as the stitching around it has come undone. All easy & quick fixes
 ___________________________________

All photos & text are copyrighted with the library of congress & the sole property of Midnight Glamour & cannot be duplicated or copied in any manner & will be prosecuted if used.
---

Care Instructions
We examine each item carefully and note any imperfections, but unless an item is said to be new, please don't expect it to be perfect & even some new items have small imperfections. I will always state in the description if there are any imperfections & I never do repairs but leave them to others who are better able to do them than me as that is not my expertise.
Please remember that unless specified all items have been used and will show varying signs of use or wear. We always list the obvious imperfections to the best of our abilities. However, some slight imperfections that will not show or affect wearing or using the item may slip by or not be considered worth mentioning.

Vintage nightgowns & peignoirs may be delicate so I do not wash them in the machine. I wash them in lukewarm water with Woolite or some other mild soap, then rinse & hang dripping wet in the shower.

Since these are vintage items, a bit of extra care needs to be taken with them so they remain beautiful & I definitely would never put a vintage nightgown or a peignoir in the dryer as it would ruin it.

The items are sold as we find them. We do not dry clean, launder, alter or repair vintage clothing and they should be cleaned or washed upon arrival. Please make your selection carefully & check the measurements as there is no return on clothing or other items.


---