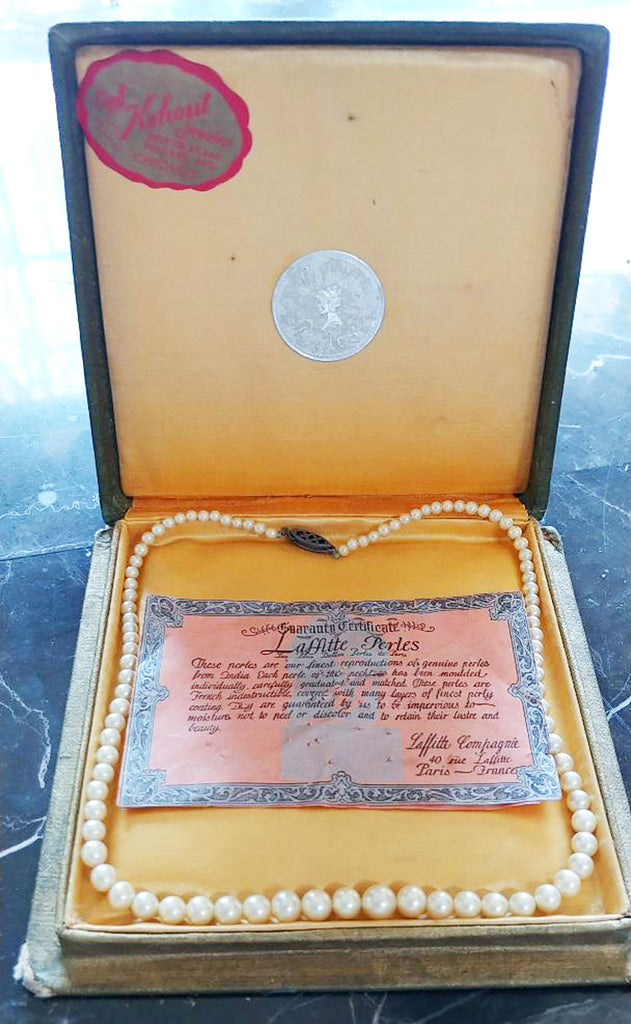 *VINTAGE 1931 LAFFITTE PERLES IN ORIGINAL PRESENTATION CASE PEARL NECKLACE WITH ART DECO STERLING CLASP - PARIS, FRANCE
The Lafitte Perles necklace from Paris, France, was a birthday gift to my mother from her parents when she was 16 years old. She would be 107 if still living so the pearl necklace would be quite old by now.
The Guaranty Certificate that came with the necklace those many years ago says:

"These perles are our finest reproductions of genuine perles from India.  Each perle of this necklace has been moulded individually, carefully graduated and matched.  These perles are French indestructible, covered with many layers of finest perly coating.  They are guaranteed by us to be impervious to moisture,not to peel or discolor and to retain their lustre and beauty.

Laffitte Compagnie
40 rue Laffitte
Paris France"
They measure 16-1/2" including the Sterling clasp which is of an Art Deco design with a slide fish hook clasp to secure the necklace. Printed on the underside of the clasp, it says "Sterling".  I was tempted to use my silver polish to brighten up the sterling but then decided that I would let the new owner do that. Tiny bit of verdigris between the end of the pearls and the clasp on both sides.

The perles are graduated in length with the smallest at the back and the largest in the center. True to the manufacturer's guaranty that came with the necklace, it has not discolored or peeled and it still retains their lustre and beauty after all of these nearly 90 years!

The necklace comes in its original olive green and gold satin pillow presentation box that was given to my Mother. It is lightly embossed with a design of leaves and maybe florals. It measures 5-1/4" X 5-1/8". There is a silver seal with the name of Laffitte Perles in the center of the inside box along with the jewelry store in Chicago that sold the birthday gift. The box has wear to the corners and pretty much all the way around but the interior is pretty with only some small black pin pricks of soiling. The paper Guaranty has been stuck lots of times with pins - probably used as a good place to keep a needle - but the writing is still legible on it.

These would be a very nice gift for someone to pass on to their daughter or wear yourself as the classic look of pearls never goes out of style!
 _______________________________________________________
All photos and text are copyrighted with the Library of Congress and the sole property of Midnight Glamour and cannot be duplicated or copied in any manner and you will be prosecuted if used.
 _______________________________________________________________

We examine each item carefully and note any imperfections, but unless an item is said to be new, please don't expect it to be perfect & even some new items have small imperfections. I will always state in the description if there are any imperfections & I never do repairs but leave them to others who are better able to do them than me as that is not my expertise.
 Please remember that unless specified all items have been used and will show varying signs of use or wear. We always list the obvious imperfections to the best of our abilities. However, some slight imperfections that will not show or affect wearing or using the item may slip by or not be considered worth mentioning.
Vintage nightgowns & peignoirs may be delicate so I do not wash them in the machine. I wash them in lukewarm water with Woolite or some other mild soap, then rinse & hang dripping wet in the shower.

Since these are vintage items, a bit of extra care needs to be taken with them so they remain beautiful & I definitely would never put a vintage nightgown or a peignoir in the dryer as it would ruin it.

The items are sold as we find them. We do not dry clean, launder, alter or repair vintage clothing and they should be cleaned or washed upon arrival. Please make your selection carefully & check the measurements. We hope you enjoy what you purchased but we know sometimes things do not fit quite as you would like or the color is wrong.  In that case, we do allow one exchange or a store credit on any item that you want. There are about 2,000 items in the store and more are being added all the time so you have a large selection to choose from.
You must email before returning an item so I can give you the information that you need to exchange the item. For items that received Free Shipping, actual shipping costs will be deducted from your refund.