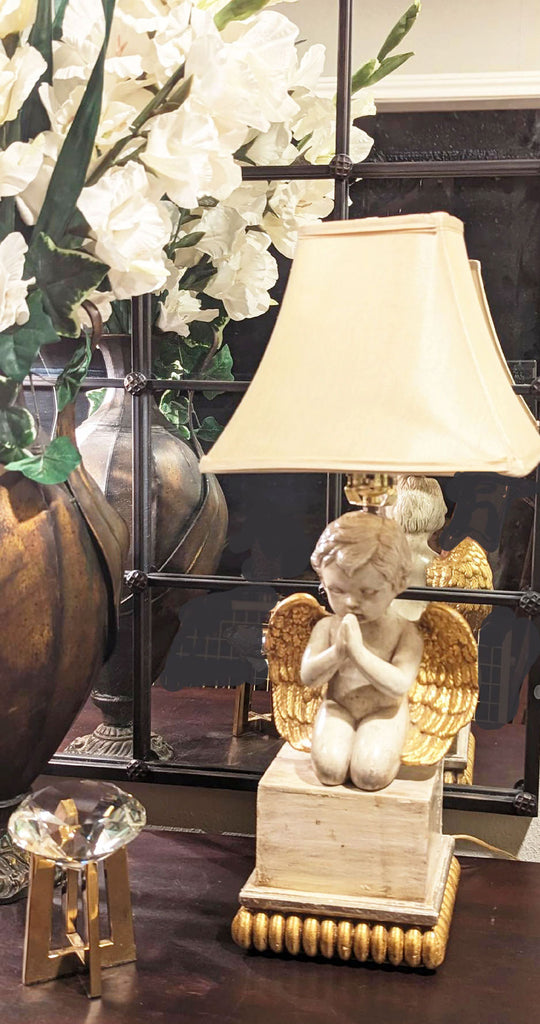 * ADORABLE VINTAGE ANGEL WITH GORGEOUS GOLD WINGS TABLE LAMP DISTRESSED CHERUB LAMP
PLEASE CONTACT FOR SHIPPING PRICES TO YOUR EXACT LOCATION.  THE SHIPPING CHARGE THAT WILL COME UP IF YOU DO NOT IS NOT WHAT IT WILL COST TO SHIP THIS EXTRA LARGE BOX.
SHIPPING CHARGES AND INSURANCE ARE ADDITIONAL ONCE I KNOW THE ZIP CODE WHERE THE ITEM IS GOING. IT WILL BE PACKED IN A VERY LARGE BOX SO PLEASE SEND ME YOUR MAILING ADDRESS INCLUDING THE ZIP CODE SO I CAN GIVE YOU A QUOTE.  
I love angels and I have had this adorable angel lamp with gold wings for decades.  I found it many, many years ago in an antique shop in Phoenix when I lived there and could not live without it.  Since then, it was in storage for a long time until my last move recently and I was finally reunited with it.  I have so many lamps from all of my moves and will start selling some of them so someone else can enjoy them.

The lamp is heavy weighing between 6 - 7 lbs. The lamp is bigger in real life than it looks in the photos.  For some reason the photos made the lamp look small.  I think it was because the lamp was placed next to a huge and very tall vase of flowers.  I am not sure what the lamp and base are made out of but whatever it is is very hefty.  The color of the lamp is neutral similar to a soft beige with beautiful shiny gold gilded wings. Large gold rounded look on the base.   The lamp is distressed and was made that way with some paint loss on the wings and the lamp but that is was how it was deliberately done.
It uses one bulb.  The silk lamp shade is a soft gold.  This is not the original lampshade.  The movers totally ruined the shade although it was well packed during one of my moves. There is a double dot of dark soil on the corner of the shade but I never noticed it and neither will anyone else. This is a replacement shade and it goes quite well with the lamp.  There is a finial that comes with the lamp. It works great with a plug in and a little switch under that shade.  71" gold cord.  It does not say what watt the bulb should be but I put a smaller wattage bulb in it but the bulb is not marked so I would take the lamp with you when you go to buy a bulb and ask someone who has some knowledge about that.  I am not enclosing the bulb as it would probably break in shipping.
Shade: height from top to bottom: 8-1/2"
Across the long side width:  11-1/3" 
Side width is 8"
Width across the the top 4 x 5"
Lamp:  From top to bottom with the shade on: 26-1/4" high
Length across the bottom 9-1/2"
Base:  7" x 8"
Wing span measures from the back: 9"
My photos were taken on an entry way buffet but it would also be perfect in a guest bedroom, a child's bedroom, a kitchen or study.  It would make a wonderful gift for someone who loves angels!
Just adorable and it will add so much charm to a room on a shelf or to your entry way!
________________________________________________________
 All photos & text are copyrighted with the library of congress & the sole property of Midnight Glamour & cannot be duplicated or copied in any manner & will be prosecuted if used.
 ________________________________________________________