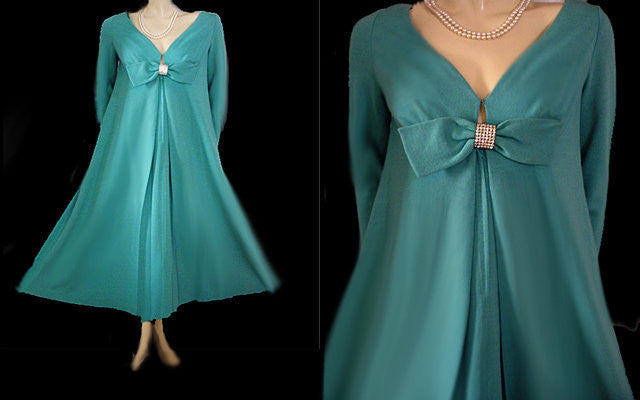 *FROM MY OWN PERSONAL COLLECTION - GORGEOUS VINTAGE LUCIE ANN - BEVERLY HILLS EVENING DRESS / LOUNGING DRESSING GOWN WITH PRONG-SET SPARKLING RHINESTONE BOW IN OCEANSPRAY
A gorgeous Lucie Ann Beverly Hills evening dress / lounging dress in a rich aqua shade called Oceanspray.
This is the brand of peignoir and  nightgown sets & lounging / dressing gowns that were worn by Eva Gabor of the old TV series Green Acres and  by many other movie stars and  well-known people all over the world and  are loved by so many people who love vintage gowns.

The lovely evening dress / lounging at home dress is in a gorgeous shade of deep aqua called Oceanspray.  It is in a fabric which feels like a light wool jersey or light wool blend. 
Lucie Ann sets and  lounge wear and  this was probably an "at home lounging or hostess dress" for entertaining.  This beautiful dress is from my personal collection and  I wore it as an evening dress out to dinner one evening and  received a number of compliments on it. I wore it with the bow in front but I think it actually goes in the back but it looked fabulous with in the front as the rhinestone bow is so gorgeous but it could be worn either way you wish.

At one time, I think it was longer as I see the hem of the dress has been re-sewn but it is just as beautiful this way and much more wearable for everyone to see.  It's too pretty to use this dress only at home so when you wear it out, everyone can enjoy looking at it.
The back and front both have a set-in yolk with big pleats for lots of fullness in the skirt. There are 2 hooks and eyes close to the huge rhinestone bow for closure with a zipper underneath that.  6 rows of sparkling vintage rhinestones surround the middle of the bow.  The bow goes over that.  The bodice and  back are double lined.  Little tiny thread loops on the underside of the shoulder area so it can hang on a plastic hanger without falling off - all dresses should have those.  The dress is fully lined.  There is a deep large pleat under that for fullness.

Just a gorgeous vintage rhinestone evening dress or lounger /hostess gown / at home gown by Lucie Ann of Beverly Hills that is one-of-a-kind in Oceanspray.

By: Lucie Ann - Beverly Hills
Size: No size but i wear a size 10 & it fit me perfectly but go by the measurements for a good fit
Approximate Measurements – This means the measurements of the item listed – not of your own figure.  You must be a few inches smaller than the measurements shown.
Bust: 37 - 38-1/2 stretched tight
Sleeve from neck: 25-1/2
Length: 48-1/4 - I am 5'6" and it was the perfect length on me for an elegant dinner dress
Fabric: No tag but it feels like a light wool jersey or something similar to that or a light wool
Care: Dry clean
Condition: Very good - a tiny pinhead hole on the right bodice or back depending on how you wear the dress and a tiny one on the sleeve but they could be pulled together with a couple of stitches and  no one would notice them - when the former owner shortened the dress, she did not hem the LINING and left it raw - no one is going to see it and I would just forget it unless you want the cleaner to fix it - some very light fading on the tops of the shoulders which no one would notice unless they were over six feet tall and were peering down and closely examining the dress which no one is going to do - when I got the dress, the former owner had pinned the bow on but it really needs snaps as there is still one original. I used the pins and never got around to putting more snaps on so and will leave that to the next owner who may be a better seamstress than me or a cleaners can do it.
________________________________________________________________
All photos and text are copyrighted with the Library of Congress and the sole property of Midnight Glamour and cannot be duplicated or copied in any manner and you will be prosecuted if used.
________________________________________________________________
Care Instructions
We examine each item carefully and note any imperfections, but unless an item is said to be new, please don't expect it to be perfect & even some new items have small imperfections. I will always state in the description if there are any imperfections & I never do repairs but leave them to others who are better able to do them than me as that is not my expertise.
Please remember that unless specified all items have been used and will show varying signs of use or wear. We always list the obvious imperfections to the best of our abilities. However, some slight imperfections that will not show or affect wearing or using the item may slip by or not be considered worth mentioning.

Vintage nightgowns & peignoirs may be delicate so I do not wash them in the machine. I wash them in lukewarm water with Woolite or some other mild soap, then rinse & hang dripping wet in the shower.

Since these are vintage items, a bit of extra care needs to be taken with them so they remain beautiful & I definitely would never put a vintage nightgown or a peignoir in the dryer as it would ruin it.

The items are sold as we find them. We do not dry clean, launder, alter or repair vintage clothing and they should be cleaned or washed upon arrival. Please make your selection carefully & check the measurements as there is no return on clothing or other items.