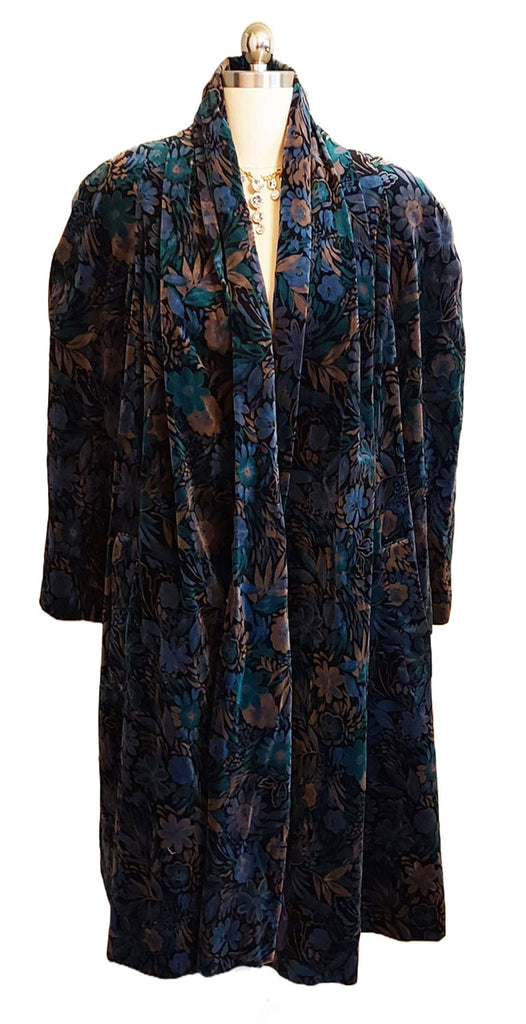 * VINTAGE DE BALL VELVET FLORAL PLEATED CLUTCH SWING EVENING COAT MADE IN THE USA
A striking vintage pleated clutch coat by Portrait Made in the USA in a beautiful lush de Ball velvet.

There are shades of deep Neptune Blue, Classic Teal and Swisse Coffee on a velvety black background.

Love the 3 large pleats which start at the back of the neck and travel down the bodice and then expand into the body of the coat. Fully lined with a taffeta like fabric.
2 angled pockets. Shoulder pads in the coat for shaping and could probably be removed if one would split the lining open to do it. The coat is made of de Ball velvet shown on the label and the label says "Water Repellant, Crease and Stain Resistant 100% Cotton." There is a vintage tag from the Ladies Intl. Garment Workers Union stating the coat was manufactured in the U.S.A.

Perfect with slacks, a skirt, a dress, jeans or worn as an evening coat over a cocktail dress when going out and you want to look fabulous.

By: Portrait - Made in the U.S.A.
Size: No tag so go by the measurements for a good fit. I wear a size 10 and it fit me although the sleeves came above my wrist by a couple of inches but this coat may have been designed to wear with evening gloves and has 7/8 length sleeves.
Approximate Measurements – This means the measurements of the item listed – not of your own figure. You must be a few inches smaller than the measurements shown.
Bust: all the way around appx 48
Shoulder to shoulder: Cannot measure because of the way the sleeves are set in at an angle
Sleeve from neck: 27
Length: 39-1/2
Fabric: de Ball Velvet - Water Repellant, Crease and Stain Resistant 100% Cotton velvet
Care: No tag but probably dry clean
Condition: Very good with the exception of there is a section about an inch up on the lining which measures appx 4" x 5" that has a number of holes (photo) largest one about 2-1/2" long x 1" with others smaller. A piece of black lining fabric could be sewn on behind this section which the cleaners could do or just leave it as no one is probably going to see the lining at the bottom of the coat.
________________________________________________________________
All photos and text are copyrighted with the Library of Congress and the sole property of Midnight Glamour and cannot be duplicated or copied in any manner and you will be prosecuted if used.
________________________________________________________________
Care Instructions
We examine each item carefully and note any imperfections, but unless an item is said to be new, please don't expect it to be perfect & even some new items have small imperfections. I will always state in the description if there are any imperfections & I never do repairs but leave them to others who are better able to do them than me as that is not my expertise.
Please remember that unless specified all items have been used and will show varying signs of use or wear. We always list the obvious imperfections to the best of our abilities. However, some slight imperfections that will not show or affect wearing or using the item may slip by or not be considered worth mentioning.

Vintage nightgowns & peignoirs may be delicate so I do not wash them in the machine. I wash them in lukewarm water with Woolite or some other mild soap, then rinse & hang dripping wet in the shower.

Since these are vintage items, a bit of extra care needs to be taken with them so they remain beautiful & I definitely would never put a vintage nightgown or a peignoir in the dryer as it would ruin it.

The items are sold as we find them. We do not dry clean, launder, alter or repair vintage clothing and they should be cleaned or washed upon arrival. Please make your selection carefully & check the measurements as there is no return on clothing or other items.